(cue beef commercial music)
So you're feeling like a walking Dairy Queen huh? (If only Dairy Queen were open 24 hours a day and you could have it in bed. Oh, and all you'd have to do is fuss to get it. Anyway, back to my point...) Nursing is a great thing, albeit a bit tough at times. Here are a few goodies to help you through.
Your body has done some amazing things lately, what with pregnancy and delivery and all. But it's not done amazing you yet, oh no! You now have superpowers! Be proud moms, be proud. No man can ever claim to produce milk. Check out this
adorable tee
by mommamonkey.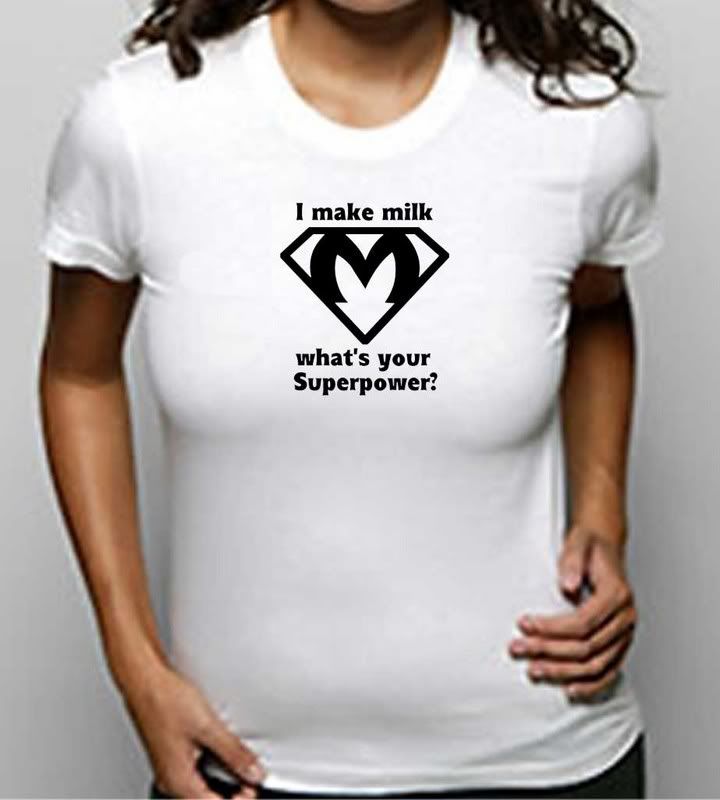 For those moms willing to walk a bit on the wild side, this
tatoo pinup style tank
by lauravida should do. How fabulous is this?
And what nursing mom doesn't just LOVE that "drunk baby" look when they're done eating? You know the one I'm talking about. Glassy eyes. Droopy lids. Half cocked smile. Yeah, that one. This
sweet onesie
sums it all up and is available in boy or girl styles.