but it did. I've fallen in love with paper. I've known for quite some time now that I have a bead addiction, and I avoid fabric stores because I know they would suck me right in as well. I just never thought paper would do the same to me, but I've fallen victim to it.
I received a package from
Toccare Design™
and that's when it began. Who knew that paper could be so
pretty
? Not I. But it is. And I drooled a bit. (I made sure to miss the paper.)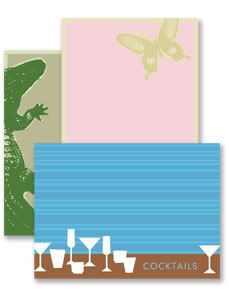 Their site is just filled with goodies that are sure to make you smile. Have a look around and you'll want to send someone a handwritten note or throw a party, just to have people ooh and aah over your stationary!
Go ahead and take a peek for yourself. Then begin planning to throw a fabulous party. You know you can find a reason to celebrate! I'll expect my invite in the mail soon...