I was recently introduced to the freshest modest (don't think that's a real word in that context but I'm using it anyway!) site I've seen in a long time. I LOOOVE this site! Mompreneur Jill Pearson has combined her amazing artistic abilities with her love for mommyhood to create
Sophie And Spice
.

There are several fabulously mod items on the site, but the one I was most drawn to was the
Mommy Calling Cards
. We moms know that feeling of being at the park, running into another fabulous mom with children of similar ages, and you want to keep in touch and maybe meet up again for a future playdate. So you begin scrambling through the purse/diaper bag in search of scratch paper and a writing utensil. You find a fast food receipt and sticky crayon and know that that's the best you'll produce at this time. Scribble down the name and number and of course that little receipt disappears into the black hole never to be seen again. Here's the answer.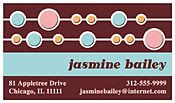 (My personal favorite is the green dot design, which I'm now the proud owner of.)
Mommy calling cards have your name and phone number on them, even your kids names if you want so the other mom can remember exactly who you are. Although with designs this sleek, there's no way she could possibly forget! Whip out one of these beauties and it's sure to be placed neatly in her wallet, where she'll definitely retrieve it and give you a call for a future playdate! Moms are happy. Kids are happy. It's a happy mod world.