It's borderline hot today. I mean like run in the sprinkler and eat popsicles kind of weather. And that means it's time for me to make puddingwiches! These little treats are easy peasy and the entire family loves them. The 'recipe' is very forgiving and you can even add peanut butter if you want!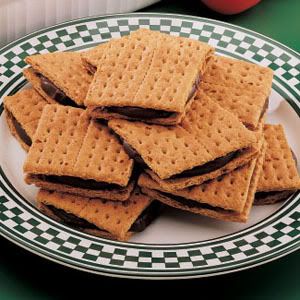 You need:
1 1/2 cups cold milk
1 (3.9 ounce) box instant chocolate pudding mix
1/4 to 1/2 cup peanut butter (optional)
1 cup of whipped topping (optional)
15 whole graham crackers
In a mixing bowl, combine the milk, pudding mix, and peanut butter. Fold in whipped topping if you want to use it. Let stand for 5 minutes. Break or cut graham crackers in half. Spread pudding mixture over half of the crackers. Top with remaining crackers. Wrap and freeze until firm.
Another option? "Frozen Cheesecakes" - Use cinnamon graham crackers and cheesecake flavored pudding! Yum-O!
These are a decent helping of protein and calcium, and you can use sugar free versions of the pudding and whipped topping if you want.
Mmmmmm.