I am. The Man tells me so frequently. I read a freaky experience on
Amelia's blog
the other day and it reminded me of the many freaky things that happen to me, far too often.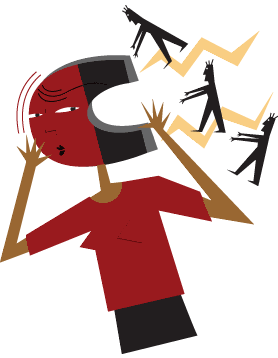 So let's start a little game of tag. I know, I KNOW... not another tag game! But we'll each only tag one person to share their best encounter with a freaky person. Easy peasy, right?

So which should I tell you about? How about the time I was walking to my car in a parking lot and suddenly this man appeared out of NO WHERE and was instantly in my face sniffing me!

"What kind of perfume do you wear?" he asked.

That should've been my first clue to get the heck out of there, but instead (being the nice person that I am) I stumbled for words and finally spit out, "Ummm, why do you want to know?"

He grabs me by the hand and begins gently tugging my arm while saying, "Because I have a van full of great perfumes over here for rock bottom prices. Chanel, Burberry, Tommy, I've got them all! You can't get prices like this anywhere!" So I'm thinking... How do I get out of this? This many wants me to go to his van with him in the parking lot at night! Ummm NO! What a freak!!

Or should I tell you about the time I got stuck on a plane with a guy who was certain he could see my yellow aura and tell all about my personality. (apparently different colors mean different things...) He wanted me to go with him so he could take my picture and show it to me on this special film he had. Or maybe the time I got stuck in the grocery line in front of a couple who was fighting and the lady was certain her man was "checking me out". She cussed him and me, threatened to beat me up... Ummm lady, I'm here with my toddler and all I want to do is buy groceries! Ack! Or what about the time I met a lady at a playdate and gave her my phone number. She called the next day wanting to get together and I told her I was busy. She replied, "Oh really? Because I'm sitting in front of your house and I can see that you're home not doing anything right now."... Yikes! Okay, okay I was just supposed to tell one story. So now I'm tagging Priscilla. Tell us about a freak encounter you've had!