The other day I wrote about my little
kidpreneurs
and their efforts to raise money for Disney.
Here is what's happened since then. The newspaper did in fact do a feature on them, which was a nice big block with color photos! (Somehow they snuck a picture of me in there as well. Ick!) Later that day we had my son's teeball game and the girl child decided she wanted to take her lemonade stuff with her to the game. People flocked to her and she sold out! She made about $6 at the game, which she was THRILLED with. While one lady was ordering her lemonade she said, "Oh are these the kids I saw in the paper today? I just love this story!"
We got home from the game and received a phone call from an elderly lady who said, "I saw the kids story in the paper today. I just have to tell you that we lived in that house for 25 years before moving to the retirement home where we now live. It was just so refreshing to see a picture of 'our' home with kids in front of it and all the life that is there. I've called each of my own 5 grown children who are now scattered around the country and am sending them copies of the paper so they can see too. I'll be by tomorrow to bring $10 to your children to help them meet their goal." I visited with her for a while and assured her that she did NOT need to bring over $10 but she insisted. And sure enough, yesterday she stopped by with it. How wonderful is that??? What a wonderful Random Act of Kindness.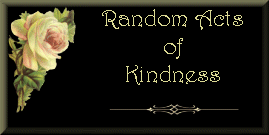 So now I'm going to pay it forward.
I'm offering a free set of earrings to the first person who posts a comment here with the correct answer. What is my favorite color?
And I challenge you to Pay it Forward by doing a raok for someone today.