I've heard of
Nutella
for years and knew that it was a chocolate hazlenut spread. Sounds simple enough. A couple weeks ago I finally purchased some. Ummmm, nobody told me how dangerously delicious it is!! Seriously people. Someone should've warned me.
I drink a chocolate hazlenut latte almost every day, so I don't know why it didn't occur to me to try this stuff before, but it didn't. Now though.. Oh, now I'm hooked! This stuff is like crack. I'm constantly thinking of new ways to eat it and use it. I can't get enough! Let's not think about how terribly unhealthful it is...
So far I've tried it on pretzels, saltine crackers, graham crackers, toast, pancakes, a spoon, and my pinky more times than I can count. It beckons me from the cupbard constantly.
And apparently I'm not the only one. There's a
World Nutella Day
! It just doesn't seem right to enjoy a 'food' product this much. But I do. I saw a recipe the other day that involved Nutella,
Frangelico
, and
Bailey's
in some sort of divine drink. I think I might explode from that much pleasure.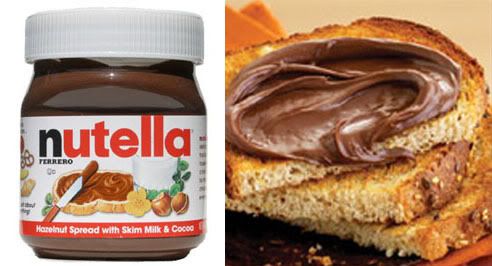 =