Have you seen these? Let's check the goodness factors here.
*Dark Chocolate - check
*Nougat - check
*Mint flavor - check
*Low fat - check
*2 pieces in each package to savor one now and save one for later - check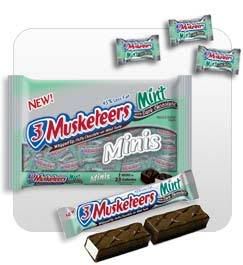 I desperately needed a break a week or so ago so The Man kept the kids while I went out... at midnight... to WalMart. (Hey, we're in a small town and it's the only thing open. I said I was desperate, right?!) I wandered the aisles for over an hour in complete silence, browsed the candles, looked at picture frames and decided I could find much better things out thrifting, picked up a magazine, treated myself to some yummy crisp white tea and as I was at the check out I spotted these beauties. Since I was having a little pampering evening anyway (yes, sometimes even WalMart can be a pampering experience if you're desperate enough) I grabbed one. Uhh, YUM!!!
This Mint 3 Musketeers has a yummy nougat minty center that is so light and fluffy and delicious! I am a fan of York peppermint patties and this is similar, but different. The center is much lighter in texture, not as thick. The mint flavor is also much lighter than York. And I'm a big fan of the candy bars that are seperated in the package because I don't feel as guilty eating one. I can spread my calories out over a few days, rather than inhaling them all at once.
Should you see this in your own local store, you really should try one! Oh, and this is NOT a sponsored post. ;-)