Sheesh, always runnin' behind. I'm participating in Show and Tell Friday (or in my case Sunday) hosted by
There is No Place Like Home
. You just find something in your house that you want to show and tell about.
This week I took the easy route and chose pictures I already had. (No time to do anything new, I tell ya! Y'all are working me like a dog! Not that I'm
complaining
...)
I want to show you my dining room table! I love love love this thing!! (Please ignore all the little bits and things on the table. I took this picture after a playdate at which we made fresh bread. I think there were 14 or 15 kids here that day and each had their own water bottle so they're everywhere!) This was taken in the dining room looking toward the living room. You can see The Boy near the front window in the background.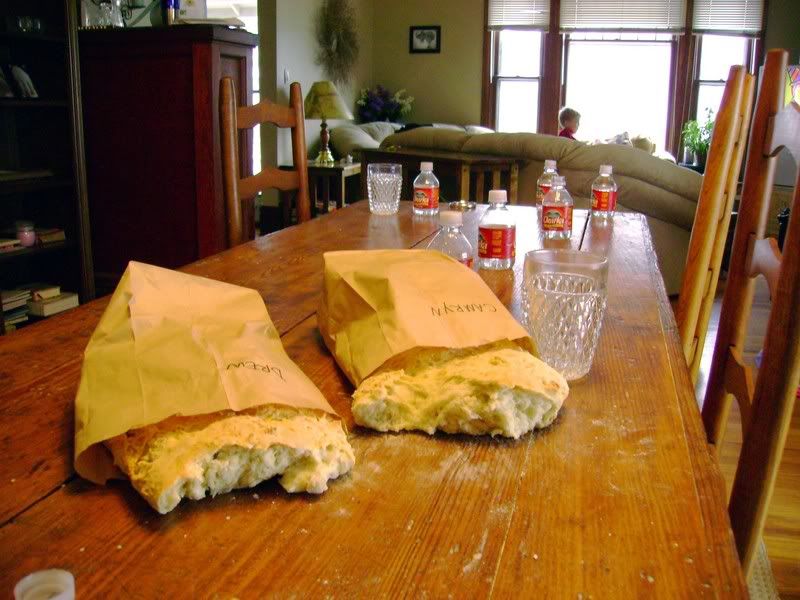 We inherited this beauty from The Man's grandparents. (Many of my show and tells will be items with this same origin. Man, they had fabulous taste!) It's quite old and rustic. I love all the pits in it and how warm it looks. I do wonder sometimes about how it came to be, how many people have enjoyed meals around it, and what stories were shared. It's about 9 feet long and was a work bench at one point. There are holes drilled in it where someone had put a vice on it. The picture only shows part of the table, but it's BIG! Someday I'll get a picture of it when it's actually cleaned off and with a centerpiece or something. ;-) But for now, this is representative of my life as a busy mom hosting playdate, while trying to find time for all the things I want and need to do.