I've had numerous people ask for a little something they can place on their blog or site to announce that they've been featured here on PamperingBeki. Well, here you go!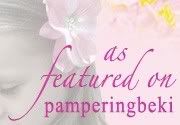 SDStudio
(as in Sunny Days Studio! Doesn't that just make you smile?) was wonderful to work with and created this logo for us to use. Her work is really lovely and in addition to graphics she does paintings and the cutest handmade cards ever. You should check her out.
Anyway, back to my point. If you've been featured on my LOVE list feel free to snag this little button and save it to your own host, then share with the world that your fabulous items were featured here! It will be placed on the sidebar for future reference.