Sheesh, where did the weekend go?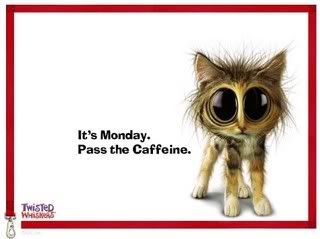 The kids are out of school today so I have to moderate the fights around here. The Man left his job last week, so he's around home right now and that's a strange change for a weekday. (Wish us luck that he finds a new one soon! I need his income so I can feed my shopping habit.) ;-) I have quite a few orders to mail today so I'll be busy with that. I went on a beading spree over the weekend and created a load of new designs so I'll be editing pictures of those and listing this week. I did a quick 2 mile walk this morning and I'm excited about that! It's been too long since I've exercised so that was a good way to kick off my day.
I know, this is complete randomness. (is that a real word?) I just needed to do a quick update. I have a Love List in mind, I just need to find time to type it up! And maybe it's time for another giveaway... Hmmmm....