I'll admit that I'm a homebody pretty much year round, but during the fall and winter months, I enjoy staying home even more. There's just something so cozy about your own space. Of course this time of year it's nice to add a few touches to your home to celebrate the holidays as well. Where do you find ideas for decorating? Well you can look on
Martha Stewart
or
HGTV
for ideas like these centerpieces.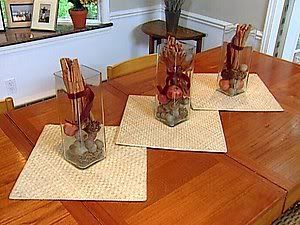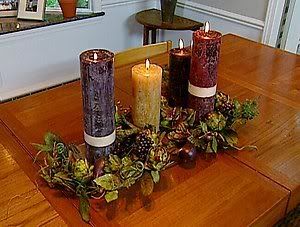 Or you can do my personal favorite and blog hop! I found this idea on
Daisy Cottage
and
Cherry Hill Cottage
recently. Unfortunately I found the idea too late to use it for Halloween so I altered it a bit to last through Thanksgiving.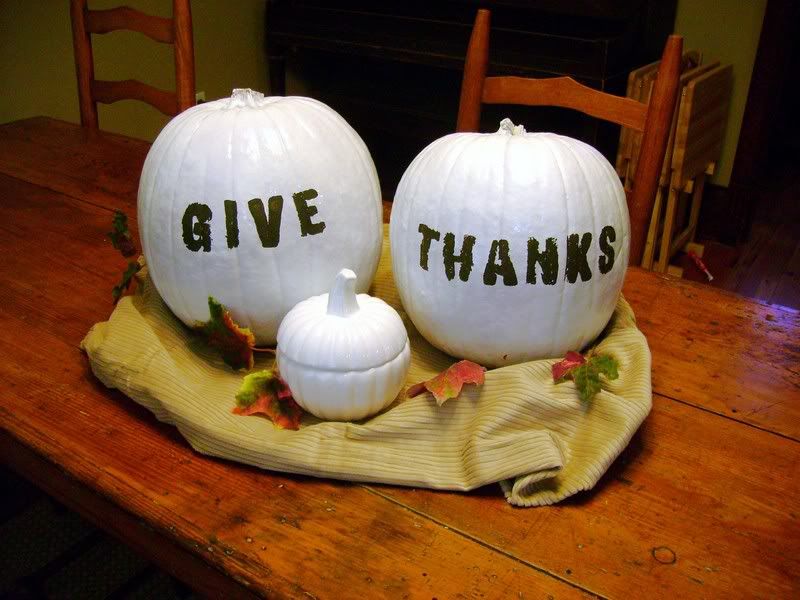 I didn't have the stick on letters, but I did have some foam stamps so I used those to spell out Give Thanks. Next time I'm thinking I'll use the sticky letters though as they just look nicer. I intentionally left my stems white because I had the white ceramic pumpkin jar I wanted to match. So it's as easy as a can of white spray paint!
----------------------------------------------
Okay, now speaking of homes but on a slightly different note - I haven't reported much lately on my thrifting treasures, but I wanted to share this one. The Man snagged this secretary for just $30 at an auction the other day! I really like it, but I think I'll switch out the hardware to something black and maybe a bit more masculine looking to tone down the frilly-ness of it. And we have the perfect spot for it. The catch is I have nothing to put inside of it! It has 3 glass shelves. Suggestions?