So I went out on Black Friday and shopped after a quick stop at Starbucks for 'breakfast' which consisted of an eggnog latte and a slice of their Gingerbread. (Let's not discuss the calorie content here okay?) Well I was in
HEAVEN
while eating the gingerbread! Heaven, I tell ya. So my quest began to find the recipe. Little did I know how much of a guarded secret it is!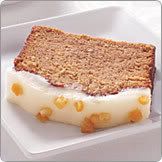 I came across several online and none of them were quite right. One of the secrets is mustard. Yep,
mustard
! Who'da thunk? I fiddled with a few and came up with this, a very close replica to the Starbuck's Gingerbread Loaf recipe. I hope you enjoy it as much as we are around here!
1 1/2 cups all-purpose flour
2 teaspoons ground cinnamon
1 teaspoon ground cloves
2 1/4 teaspoons ginger
1 teaspoon orange extract
1 teaspoon salt
1/2 cup butter, softened
1 cup white sugar
1 teaspoon baking soda
1 cup applesauce
2 eggs
1 tablespoon yellow mustard
FROSTING
8 oz. cream cheese
21/2 cups confectioner's sugar
1 teaspoon vanilla extract
1/2 teaspoon orange extract
Preheat oven to 350 degrees F. Grease and flour a loaf pan. In a medium bowl, stir together flour, cinnamon, cloves and salt. Set aside.
In a large bowl, cream butter and sugar until light and fluffy. Add all other ingredients. Mix until smooth.
Pour batter into a loaf pan. Bake at 350 degrees F for 40 to 50 minutes (I do 45 minutes) or until a toothpick inserted into center of cake comes out just slightly sticky.
Beat cream cheese until light and fluffy. Beat in vanilla and orange extract. Gradually beat in confectioner's sugar. Frost cake when it is completely cooled. Decorate with chopped candied orange peel.