Moms Rock! Really, they do. (Like I need to tell you this.)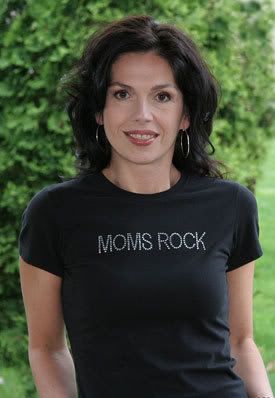 This tee is by
2 Funky Moms
, a company started by a couple of fabulous mompreneurs who decided to add a little sparkle to the world one mom at a time. Their tees come in a variety of colors and sizes, and there are even some for the kids. They wash well and we all know how important that is when you're a busy rockin' mom! (I don't remember the last time I actually ironed a piece of my clothing...) We want ease, but we want style along with it. Put this top with a pair of great jeans, some rockin' heels, and you're done.
Mother's Day is coming sooner than you think so this might be the perfect gift for someone in your life. Or you may start dropping your own hints now so that you'll be the lucky recipient of one. (I'm wondering how to tell The Man that this is what I'd like...Hmmmm.)
Anyway,
2 Funky Moms
are complete rockstars in my book! (Oh and pssst. They have free shipping right now.) LOVE them!!