that I
needed
an apron? This morning I was just blog hopping and stopped by one of my daily visits,
The Downtown Boutique
. She has a picture of the most gorgeous apron I've ever seen and apparently I
need
it! Who knew?
Her link took me to
Heavenly Hostess.com
where I found more gorgeous aprons than I've ever seen in one spot.
So do I need the
Luxe Red
or the
Grace Brown
?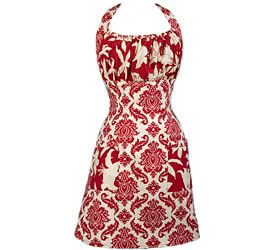 How about each of you pitch in a few dollars and get this for me, okay? Mother's Day is coming up. And so is Memorial Day. And eventually it'll be Christmas again. Really, I'll take it for any occasion. ;-)