as usual. I really think I talk too much. All those years of being a painfully shy kid stockpiled many words that come out now.
First, I was awarded a Beary Sweet Award by
Julie at Blessed With 5
. Julie is a supermom in my book because I can barely handle three. I cannot imagine five. But she does it, and does it well. God blessed her with a full family, and an amazing mothering gift.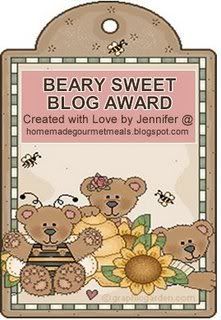 I received this "BEARY Sweet Blog Award" because of one or all of these reasons:
Has an Inspirational Blog
Blog is updated at least 2 times each week
Shows faith
Has a positive attitude on life
Makes mistakes
Share real life stories/experiences
Enjoys Blogging
So what do I have to do to accept this award??? Well I have to first link back to the person that created this award and her name is
Patrice
.
I'm passing it on to
Nikki at Whimsy Girl
. She has an adorable blog, an adorable attitude on life, and loves cupcakes which is always a good trait in a person.
----------------------
Angie at
The Downtown Boutique
(one of my favorite stops) is giving away a $50 gift card to Amazon.com!! How cool is that?!
Click here
to enter.
----------------------
Jayne at
Bunny Chic Boutique
is giving away fabulous goodies from
Sew Gracious
, a shop (and blogger!) that I looooove. I'm supposed to tell you to go enter, but you really shouldn't because I am hoping to win the goods myself and I want to increase my odds. So don't, okay? I want it all for myself. But if you decide to, you would
click here
to enter. ;-) But really, I want it.
---------------------
Happy Weekend!