This has been the number one google search lately that's led people to my blog. (It's followed closely by the weird boob searches, and I
know
those people aren't finding what they're looking for here.)
So I'll ask you the same question, when do you decorate for fall? I've really been having the urge to put out my decorations lately but I'm afraid if I do it too soon, I'll get sick of them.
This was our table last fall.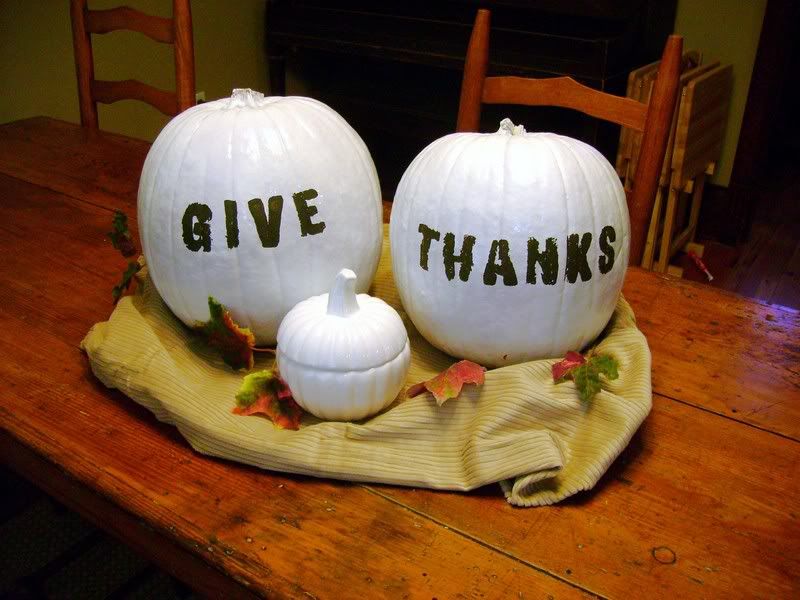 I just spray painted the pumpkins white, and then with foam stamps and chocolate brown paint I let the kids put "Give Thanks". There was a super cute one on someone else's blog last year (I don't remember who, sorry!) that was spray painted white like this, but then she painted the stem black and put black polka dots all over it.
ADORABLE!
The possibilities are endless with this idea though. They lasted a really long time!
I also really like
Martha Stewart's glittered pumpkins
and am thinking about doing that this year. I think I would use fake pumpkins though so I could use them year after year. Hey, if you can sparkle with your jewelry, shouldn't your home sparkle too? Glittered pumpkins are jewelry for the home, right?
Do you decorate for Halloween or just Fall?