If my blog gets quiet for a few days it's generally because I'm busy. And boy have I been busy lately! The Christmas and wholesale orders are pouring in and I'm so grateful but it's kind of making my head spin too.
So I'm sharing a recipe I have shared before. But it's good enough to be reblogged.
It's supposedly the recipe Olive Garden uses. Who knows if that's true.
I serve it for company pretty often and it always gets raves, even from men.
A little relative won the blue ribbon with it at a 4-H competition the other day.
It's good soup.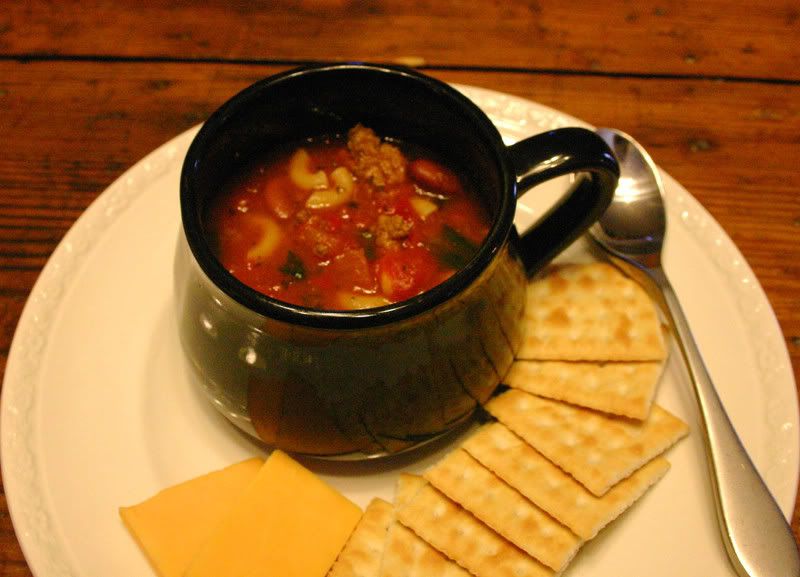 Pasta E. Fagioli
1 pound lean ground beef
1 1/2 tsp olive oil
1 med. onion, chopped
4 carrots, slivered
3 ribs celery, diced
1 24 oz. can diced tomatoes
1 can drained red kidney beans
6 cups beef stock
1 1/2 tsp. oregano
1 1/4 tsp. pepper
2 1/2 tsp. parsley
3/4 tsp. tobasco sauce
3 cups spaghetti sauce (any brand)
4 oz. ditalini pasta, cooked and drained
(Ditalini, or "little thimbles" is a small tubular pasta like a very short macaroni. If you can't find it in your store, macaroni can be used.)
Directions
Brown the ground beef in the oil in a sillet, until crumbly. Drain if needed. Stir in carrots, onions, celery, and undrained tomatoes. Simmer for 10 minutes. Rinse and drain the kidney beans, then stir into the beef mixture. Stir in stock, oregano, pepper, parsley, and tabasco sauce. Simmer for 45 minutes until celery and carrots are tender. Stir in the spaghetti sauce and pasta.
You can add in sausage to the ground beef if you like. I like to add in spinich as well.
Normally I'd serve it with crusty bread, but I didn't have any, so it was cheese and crackers this time. And soup just tastes better out of a mug. Don't ask me why.