There is a song by Steven Curtis Chapman that says:
I can see the fingerprints of god
When I look at you
I can see the fingerprints of god
And I know its true
Youre a masterpiece
That all creation quietly applauds
And you're covered with the fingerprints of god
So look around you and see where YOU can see God's fingerprints. Is it in nature? Kids? Animals? Where do you see them?
Here's how to join in.

1. Blog with your interpretation of God's fingerprints. Be sure to link back here so others can find the entire list of participants!
2. After you've posted your blog, sign the Mr. Linky below. Have fun exploring the other links as well!
Please only sign in if you're participating and sharing pics. Hopefully this will make us look at things through fresh eyes throughout the week!
-------------------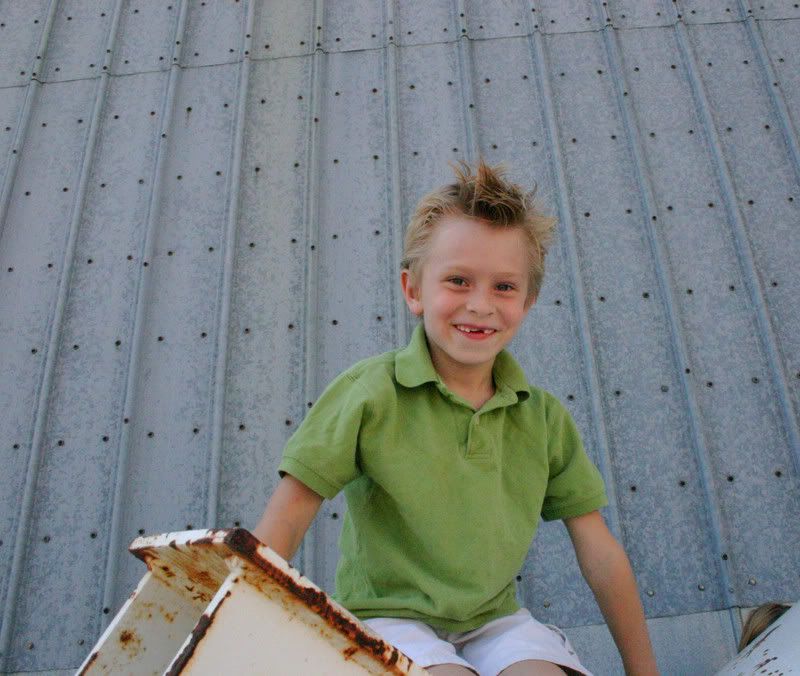 My funny boy is 7 today.
Since he was little we've known that his sense of humor was not "normal".
He's hysterical.
And most 7 year olds don't get him. On the surface, he's just a shy sweet kid.
But when he loosens up, he'll have a room full of adults rolling with laughter.
A few of his recent comments that cracked me up -
-I wake him with a back stratch every morning. Recently I sat on the edge of his bed and before I could even touch him he says, "Where's my back scratchin' woman?!"
-He dropped something and said, "Ahh ssshhhhhhhhhugarhoneyicedtea!" We were sure that "shhhh" sound was going to end in a different word!
-A different morning I woke him up and said, "Good morning sunshine! How are you today?" In a deep gravelly voice he said, "Oh, I got da blues."
-The Girl said to him, "Let's play like you're the horse and I'm the rider, okay?" and he answered, "No, let's play like you're grandma and I'm the reindeer!"
He is my sunshine and I see God's fingerprints all over this kid every single day.
I took cupcakes to his class and they sang
this song
to him. And I cried. Yes, I stood in front of a class of 1st graders crying. (I think I hid it okay though... No one laughed at me.) ;-)