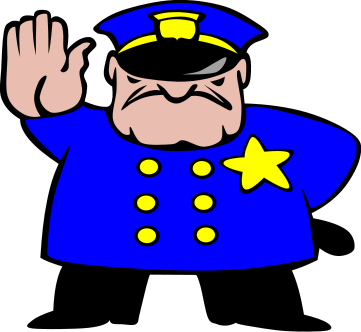 Was it a full moon out or what? Over the weekend I've had a lot of random spam-filled comments here on my blog.
Some were blatant spam, advertising their products.
Some were hate filled.
Some were so bizarre, they had me cocking my head to the side like a confused puppy.
So I had to put on my Blog Police hat.
I've removed all the comments that I didn't feel were appropriate for this blog.
My
blog,
my
rules.
Don't forget that I'm a mom and I will spank and put you in the corner before you know what hit you!
I haven't had this issue in ages, where I actually had to police the comments coming in but "they" were out in full force this weekend!
So if you saw inappropriate comments here, I apologize.
Now I'm going to have some coffee,
Starbuck's style gingerbread loaf
(you should try it!), and work on lots of orders I have to get in the mail today. Back to my fluffy happy little world.... Ahhhhh, that's nice.