I got to attend a fundraiser tonight for The McClenahan family, honoring Cora.
This
pretty lady
is a consultant for Premier Jewelry and she organized it. (apparently I had a shiver when I snapped the picture... or too much coffee.)
They had some jewelry and fashion tips.
There was a sea of pink and green.
Jess's good friend talked about the family, the pregnancy announcement, and the day Cora was born.
If you look closely you can see her messy flower pin from Julie at
joyshope
, who was the inspiration for the Cora Playground Launch on Etsy. There were lots of the pins being worn!
It was a room full of ladies who have been touched by the McClenahan family.
The Girl took money out of her Disney savings jar to donate.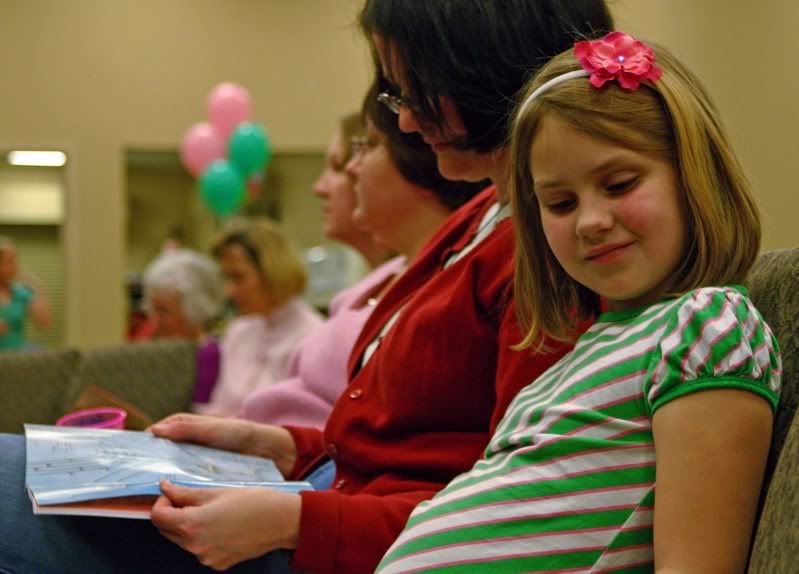 These two need to start blogging. Ahem! Ladies, hop to it!
There were tears and laughter, and celebration through the sadness.
There was a photo booth there (you know the kind you used to go in when you were a teen!) and everyone got to go in and do fun pictures.
They will all be put on a disc and given to Jess and I think she's going to love it.
To see so many people come together and support her family and celebrate her baby girl's birthday will mean so much to her.
Oh, and this was the sunset when I walked out of my house to head to the party. Seriously.
Thank you to all the ladies involved in organizing this! I hope you made a ton of money to help Joel and Jess. And Hi to all the new ladies I met who told me they read my blog!
Oh, and at the latest count the Etsy Playground launch raised over $15,000 with 60 or so sellers who still hadn't reported! WOW!! Thank you so much to
Heather
and
Molly
who have put in more hours than I can imagine to keep this running smoothly.