I'm a snob.
I'm not proud of it, but it's true.
I have high expectations for things. I expect products and services to blow me away.
When I have a chance to review items, I hope for the best, but secretly plan for the worst.
So I was
extremely
pleasantly surprised when I got the new CD called
Here We Go
.
I'll be honest that I didn't expect it to be as great as it is.
It is
SO CUTE
!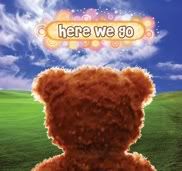 The songs are all original, so you won't recognize them immediately. But they suck you right in and by the end, you're singing along. They're very much "kid songs" but parents will like them too. Think of a mix of Laurie Berkner, Beck, and The Flaming Lips. They're happy, peppy, silly, and upbeat, a bit heavy on the rock side. That's a good thing.
You could pop this CD in on a road trip and everyone in the car will be having a great time. I promise.
I definitely reccomend this for parents of toddlers through grade schoolers. My kids ages 2-8 all loved it.
You can pick up a copy or download it as an MP3 by
clicking here
.
Now I'm taking my high expectations (aka snobby self) to pop in
Here We Go
and clean house. It's great for motivation! LOVE it!