Or not as much guilt as I could have.
Cheesecake time!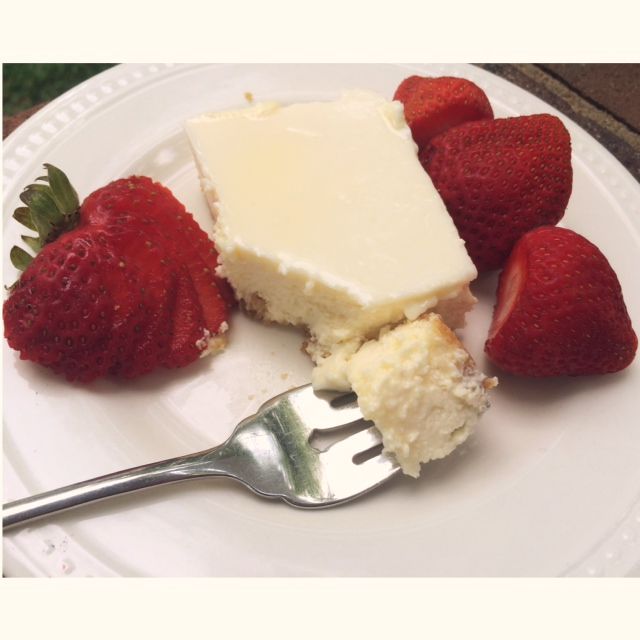 Ingredients
1 1/2 cups Graham Cracker Crumbs (could use cinnamon graham crackers, oreos, or vanilla wafers too)
1/4 cup (1/2 stick) butter, melted
1 1/4 cups sugar, divided
4 pkg. (8 oz. each) Cream Cheese, softened (I use 2 full fat and 2 low fat, but NOT fat free. Those are just gross.)
2 tsp. vanilla, divided
1 container (16 oz.) Sour Cream, divided (I use low fat here too)
4 eggs
Instructions
1.) HEAT oven to 325°F. Line 13x9-inch pan with foil, with ends extending over sides of pan. Mix crumbs, butter and 2 Tbsp. sugar; press onto bottom of pan. (I skip the foil.)
2.) BEAT cream cheese, 1 cup of remaining sugar and 1 tsp. vanilla in large bowl with mixer until well blended. Add 1 cup sour cream; mix well. Add eggs, 1 at a time, beating on low speed after each just until blended. Pour over crust.
3.) BAKE 40 min. or until center is almost set. Mix remaining sour cream, sugar and vanilla; carefully spread over cheesecake. Bake 10 min. Cool completely. Refrigerate 4 hours. Use foil handles to lift cheesecake from pan just before serving.
**My notes - Other than baking, step 3 isn't really necessary. What it gives you is a pretty cheesecake with no visible cracks. If you know you're going to be topping the cheesecake with chocolate, fruit, caramel syrup, honey toasted almonds, etc. you can skip that last step because it will be covered up anyway! If you're a cheesecake purist, then do the last step because it really does make it a perfectly pretty cake.
If you never thought you could make a good cheesecake, trust me you can!
I've had many not-so-great attempts but this one is perfect every time.
I also love that this is made in a 9x13.
Easy Peasy.
It is so good!
And calorie free.
Okay, I lie.
But I do cut out the calories where I can!
Which means I can have another piece.