I didn't realize when I posted it, but this picture is creating quite a buzz!
I searched all over my computer files to show you the originals and I just can't find them.
But yes, this is a super cute and easy Father's Day gift idea!
I don't even remember where I first saw it, but I can assure you that I didn't think it up.
The wooden letters are easily found at WalTarget places in the craft area and are just a few dollars each.
The first year I did it, pictured above, I only had two kids. So I put them in the middle picture together to make it even.
And I printed each seperately, then framed them in a 3 picture photo frame.
This is actually our yearly Father's Day gift to The Man, so here are some other's we've done.
This one was the hardest, because The Baby kept crawling away and I was snapping as fast as I could with a point and shoot camera. (Just tossed a blanket down in the backyard and put them on it.)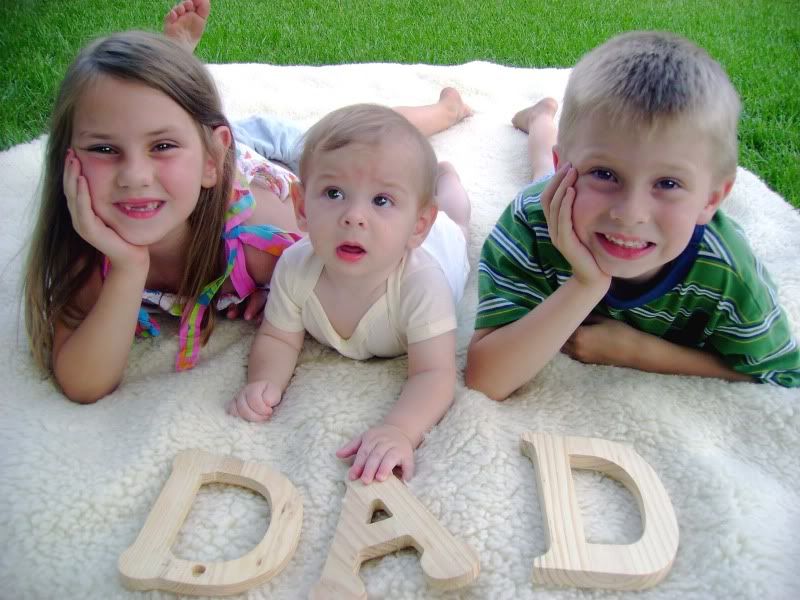 This one was last year. You can barely see the A because The Baby wouldn't hold it up.
But there's really no right or wrong way to do this!
Get some close ups.
Print them in black and white or in color.
Have the kids laughing or pouting or even crying.
It all works.
Organic and natural work well with this theme.
By the way, it works quite well with other words too. We did a set of these one year for Nana for Christmas!
If you make one for Father's Day, be sure to share the link! I'd love to see them!
P.S. Thank you Tonya for this
amazing post
!!! Just stunning.