Would I lie to you? I think not.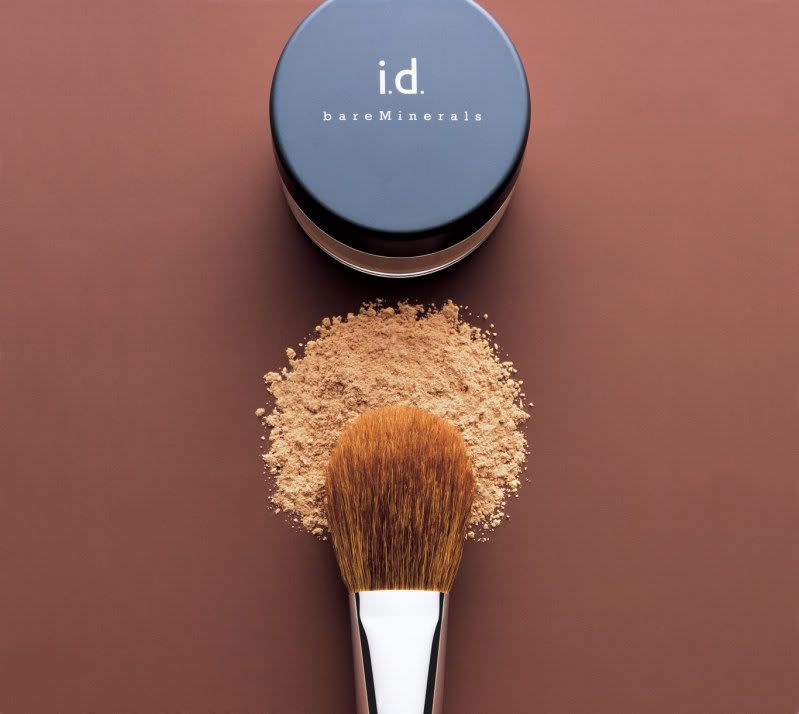 I posted about this
a long time ago
, but it's good info so I'm going to copy and paste it here again. Then at the bottom of this, you get the chance to get your own bareMinerals for free.
------
As with anything new there is a learning curve. The first few times I wore it, I liked the way it felt but wasn't crazy about the coverage. It takes a bit of practice to find a routine you love with it. My routine now takes less than 5 minutes and I can do it without a mirror, which means while I'm running around getting kids dressed, driving, etc. (Shhh!!!) Seriously, it's so forgiving that I don't even have to look at what I'm doing.
What I've settled on that works best for me:
Primer.
Bisque on dark or red spots and undereye circles.
Then a dusting of Mineral Veil.
Buff on the foundation.
Then
ANOTHER
dusting of mineral veil.
A little Warmth on the cheeks and eyelids, swipe of mascara and tinted lip balm, or Buxom Lips and I'm done!
This face stays put
ALL
day long, (Or from Sunday until Wednesday as I told you recently...) always looks fresh, doesn't wipe off on The Man's shirt if I hug him, and is easy as it gets. If I'm in a rush, I can skip one or two of the steps like primer or the first mineral veil dusting.
Warmth
is a brown terra cotta type color, similar to bronzer, but has no sparkles. (Actually NONE of these products I'm talking about have sparkles.) You can use it under your jaw to accentuate the jawline, in your cleavage for a little added oomph, or wherever you want to contour.
Mineral Veil
is like airbrushing for the skin. It's
AMAZING
!! It has no color, so any skin can use it. You can apply it over and over during the day if you want to freshen up and it never cakes or builds up.
Bisque
performs as a miracle concealer for your face and with SPF 20, protects your skin from the sun. It covers all imperfections, including dark circles, brown and red spots, blemishes, broken capillaries, scars and other skin imperfections.
A few tips...
1) When you first start playing with your new makeup, do only half of your face at a time so you can really see the difference.
2) When you first get your products,
DON'T
remove the stickers on top of the pot!! You'll end up with too much product if you do. Instead of removing the stickers, just poke holes with a straight pin. Start with a few, then do more if needed. This will really help to prevent messes. Trust me, this is a biggie and you'll thank me for this later.
3) If you live near a Sephora you can go in and try the products to find out what shades work best. I LOOOVE the Bisque and the Buxom lip glosses.
------
Now, you want your own, right?
Leslie Blodgett
, CEO of Bare Escentuals, has given me some foundation samples to give away.
They each come in a cute little pot, with their own mini brush. (A full sized brush will work better, but if you're sampling this one is perfect. Plus you can carry it with you in a makeup bag or purse.)
To enter
:
1. Visit
bareMinerals
and tell me which shade you think you are. They're very forgiving and I have a wide selection! (I use Fairly Light and you can see a bit of my coloring
here
in my Las Vegas pictures. I'm quite fair, blonde, light eyes.)
2. Tell me
why
you want to try this makeup, or if you're already a user, tell me
what you love about it
!
3. Sit back and hope that you're one of the winners! I'll draw winners Monday, May 11.
(Oh, and if you want to help spread the word through your own blog, facebook, twitter, etc. it's much appreciated.)