I tried hard. I really did.
But it just didn't happen as I'd planned.
The Man will receive his Father's Day gift today rather than yesterday, when he should have.
The first photo shoot had one of the kids in a very bad mood and it came across in pictures.
I'm not naming names.
They looked terrible. So we redid them yesterday.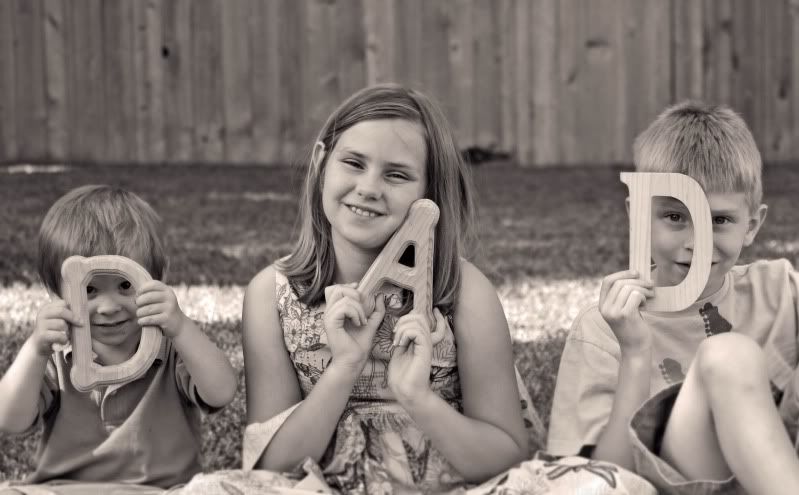 Put them on a disc and ran to the store, and the picture machine was broken.
Ran to another store and their picture machine was broken too!
We're in a small town and there are only two picture machines that I know of.
We were already late for an appointment, it was 100 degrees and humid, and I had three cranky kids. So I cried.
We gave The Man his card and told him he'd receive his gift today.
*sigh*
I tried. I felt like a complete failure, but he really didn't seem to mind.
He still had a great day. He's a great man.
My own dad? Also a great man. I talked to him on the phone into the wee hours of the night.
It was good.
You must read Nic's simple, but moving Father's day post
here
.
I've been seeing these pop up on various blogs, so here are a few - (If you've done one and aren't on the list, let me know and I'll add your link!)
Jen
Jenny
Amy
Emma
Beth
Trasie
Kandis
Beth
Heather
Maple Memories
Linda
Jessica
Skamamama
Brenda
Jenny
Karla
Happy Belated Father's Day!