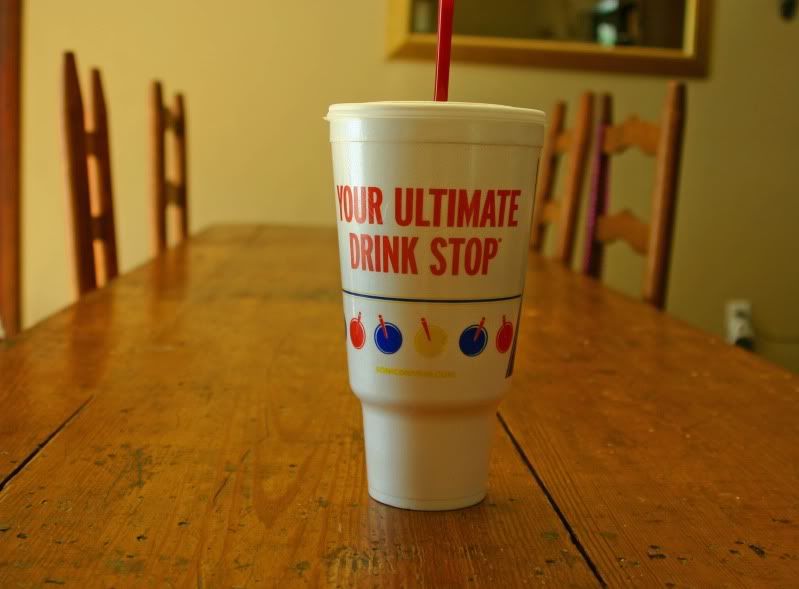 On hot sticky days,
Sonic
has been my go-to refreshment for years.
A Route 44 Diet Cherry Limeade. YUM.
Or a Route 44 Diet Cherry Dr. Pepper, for an afternoon caffeine fix. Yeah baby.
But, a while back my friend
Jen
told me I had to try their Mango Limeade.
Holy mama,
Jen
knows what she's talking about!! It is amazing!!
And 1/2 price drinks during happy hour (2-4pm)? We're there.
Oh and when you're in a mood to be really naughty? Try the coffee milkshake, called a Java Chiller.
If you want to get
real
crazy, you can even have an extra shot of espresso, called a Sonic Boom.
Not that
I
would ever consume that many calories and caffeine in one setting...
Funny story - when we lived in Colorado Springs a few years ago they did the happy hour thing.
I think they were a test market for
Sonic
.
Then we moved to Kansas.
I went to Sonic one day, pushed the red button and said, "Do you have happy hour?"
There was a long pause and then the 17 year old girl came on the speaker, laughing, "Ummm, ma'am? This is
Sonic
. We don't serve alcohol."
*sigh* I tried to explain it to her but I don't think she believed me.
Drink in your summer!