****This exchange is now over. Thanks to all who joined!****
I'm pretty sure I'm crazy. Let's just clear that up right now.
I have no time. I'm stretched as thin as I can possibly go. (why can't that show up in my jeans size? Hmmm...)
But after so much fun last year, and numerous requests this year I'm doing it again.
If I have to stay up a few nights with no sleep, it won't kill me, right?
The Blogger Ornament Exchange!
The rules:
1. Sign the MckLinky below with your name and blog link(cut off date for sign ups is Nov. 12.)
2. Be willing to send an ornament of aprox. $10 value to your partner. They can be handmade, store bought,
Etsy
bought, whatever.
3.
Email me (joshandbeki AT yahoo.com)with your name, address, and blog link. Please put Ornament Exchange in the title of your email! This is the most important step.
4. I will assign partners and contact you with their name/address. You will be sending to the same person you're receiving from. (this is different than last year.)
5. Ornaments will need to be mailed by Nov. 23 at the
LATEST
.
6. Spread the word, if you'd like. We also have a
flickr group
you can participate in.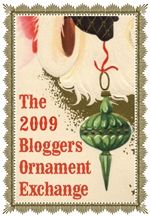 Just copy and paste the following code into your blog or website.


*Please note that this is for fun only. I am not responsible for non-shippers, but hopefully we won't have any.
The gorgeous logo was created by the incredibly talented Cathe Holden at
JustSomethingIMade
.
Thank you
Cathe!!