Bold title, no?
I get questions emailed to me all the time about this, so I'll tackle a little bit of it here.
~ You
don't
have to have a fancy dslr camera, in my opinion. You'll be amazed at what can be done with a point and shoot, if you learn to do it.
~
Be prepared to study
. Read your camera manual. Then read it again. And probably 12 or so more times. No fun, I know. But it must be done.
~ Learn to
turn off your flash
. No flash, you hear me? No flash.
~ Learn to
adjust your ISO
. This has to do with the amount of light you're letting in to your camera. High ISO means more light, low ISO means less light is coming in.
Bright sunlight should have a very low ISO, like maybe 100.
Indoors, you'll have to increase your ISO since you're now no longer using your flash. Play around with it and you'll figure out what works.
Try it at 400. Try it at 800. Try to go as high as your camera will allow.
The other thing you need to know about ISO is that the higher the number, the more noise or grain you'll get in your pictures. It's just one of the tradeoffs.
Grain = bad.
Flash = worse.
~ When you can,
shoot outdoors in a shady spot
. Not in direct sun.
Full sun will make your subjects (if they're people) squint and that's never flattering.
It will also give very harsh shadows and usually that's not attractive.
~ Learn to shoot in
aperture priority
. You'll find instructions in your camera manual. I
told
you you have to read it! (Once you've mastered aperture priority, you can move to manual which is a whole new world! Once you're in manual, you'll never look back.)
Aperature priority means that you set the aperture, and let the camera decide the shutter speed.
~ Aperture...
The lower number you have, the more narrow your focus
. (I wish I had photo examples to put here!) Think of this - You're looking at a flowering tree. If you want the entire tree to be in focus equally, you'll need a higher aperture number, like 11 or so. If you want only one flower to be in focus and the rest to be blurred, you'll need a lower aperture number like 4, or 3.2, or 1.8. (Different cameras will allow different numbers. If you have a dslr, it's the lens that will determine how low you can go in aperture.) Just go as low as you can if you want to narrow the focus.
Again, if you want all flowers in focus = high number. One flower in focus = low number.
~ That pretty blurred background is called
bokeh
. Sometimes it's lovely. Sometimes it's strange.
~ Photography is just like any other art form. What appeals to some, doesn't to others! If it's a photo that you love, then it's perfect no matter what someone else might think.
~ Often it's best to not have people looking at the camera. Focus on capturing moments, in real time! Not posing the kids and having them say cheese.
~ Try a different angle. Maybe have your kids lay on the grass and you stand above them while shooting straight down. Or the opposite - you lay on the grass and have them above you leaning over.
Climb under the dining room table
and get pictures of their feet dangling off the chair. Try something besides the obvious straight on face shot. You'll be pleasantly surprised, I think!
~ Some of my favorite photos came from a point and shoot camera. (apparently a few years ago I thought that ripped edge border was crazy rad.)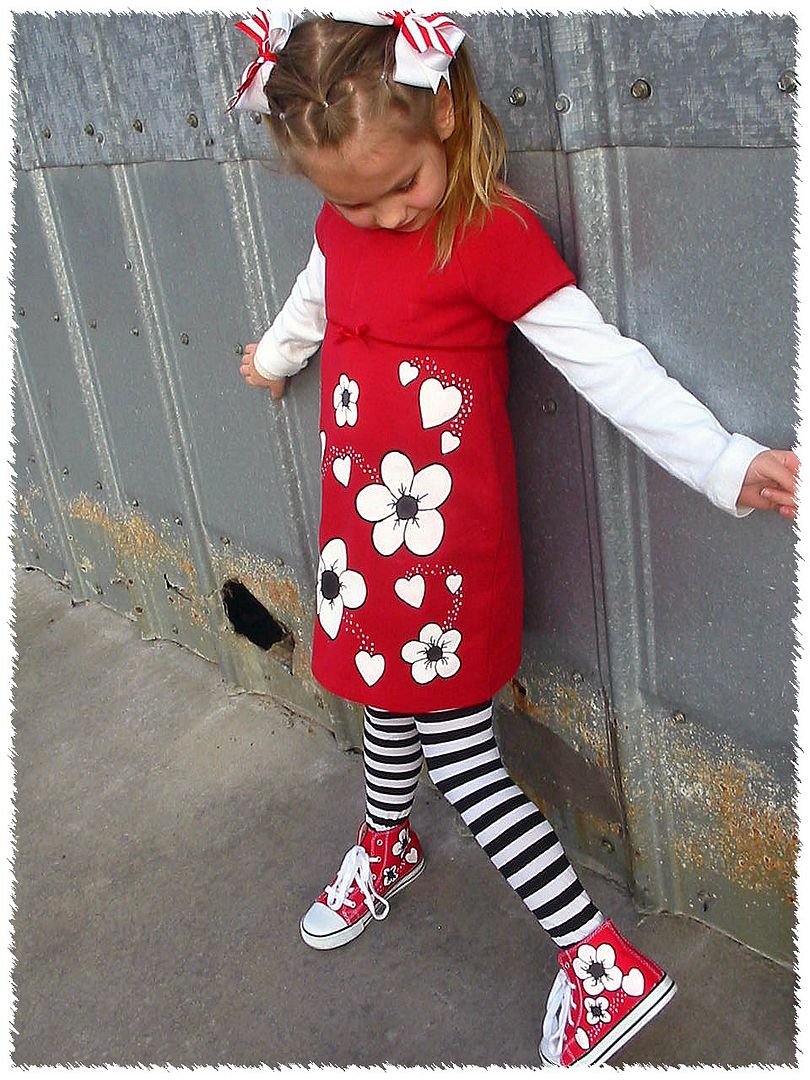 ~
Use an editing program
. You will never ever ever see a photo nowadays in a magazine that hasn't been edited in some way. I think of editing like makeup. You can take a very pretty face and make it stunning with makeup. You can take a pretty picture and make it stunning with editing. But you can also ruin it by going too far. In my opinion,
a light hand is best
. But as I said before, photography is a subjective art. I use Photoshop. You can find very inexpensive ones as well, and most cameras come with one. Add a touch of contrast, boost the color saturation a bit...
~ Any questions? Have fun!