You know those things you don't like, but do anyway because they're good for you?
Taking vitamins.
Exercising.
Your annual exam.
Eating spinach.
Well this is one of them. We do this every Summer.
And we really don't like it. But it is so good for us!
And I'm
challenging you to do it
too.
Unplug it.
Pick one day a week and be willing to unplug.
The official Beki definition of unplug: Remove yourself from things that are a time waste for you.
In our case it's TV and computer.
So every summer when the kids get out of school, we commit to spending one day a week with no TV or computer.
(This is their last week of school before summer break.)
We picked Thursday.
Starting next week, every Thursday will be unplugged until school starts again.
We hate it.
We whine about it.
We try to cheat.
But you know what? It's always wonderful!
It's eye opening!

We have a craft day. A library day. A board game day.
A visit to the lake day. A picnic day.
A lay in the hammock and read all day day.
A help mom make dinner day.
It forces us to see things in a whole different way.
And
one day a week won't kill anyone.

So you want to join?
I dare ya.
Just commit to unplugging, one day a week for the summer.
You figure out what is your biggest time sucker.
And step away from it just for a bit.
If you want to help spread the word, feel free to grab this button.
Just copy and paste the code from the text box into your blog or website.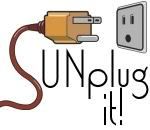 And if you want to join in the Linky list, you can do that as well.