A while back I asked if you had any questions for me.
Being the prompt and extremely organized lady that I am, I'm just now getting around to answering them.
I only have a few minutes because The Man is thinking I should help him work rather than blog.
So my answers will be brief.
He doesn't understand priorities.
I'm always curious to know how married couples met each other.
So my question is what began your journey to becoming Mrs. Hastings?
We were both corporate trainers for a restaurant chain.
He lived in Kansas and I was in Missouri.
We met in Oklahoma, opening a new store there. We hit it off immediately.
He was just a "good" guy. A good solid, kind, respectable, honorable guy. The kind I needed and was looking for.
We met, were engaged within 5 months, and married 3 months after that.
What was your most embarrassing moment? Feel free to give all the gory details.
Ummm this one time I blogged about a badger and it turned out to be a woodchuck...
Do you have any odd habits?
I only drink cold drinks with a straw. Even water.
What do you do with your belly button lint?
Fortunately I've never had any!
But if I did, I'd probably think of a craft... And send it to someone as a gift.
Which of your kids is most like you? (You know I'm thinkin' it's Bad Baby.)
Actually it's The Boy. The middle one.
He looks just like me and acts just like me.
Who's your favorite blog stalker in the whole wide world and why do you love me, uh, I mean her/him?
It's you,
Wendy
!! You know I love you!! You're my one and only. You always crack me up.
You walk into Starbucks on a hot, sunny afternoon. The sweet stranger in front of you in line offers to pay for your order, whatever you'd like. What do you do?
I say, "Oh that is so nice of you!! Now what should I order? I almost never get to Starbucks and don't even know how to order a drink here. Just pick out something yummy and sweet for me. And by the way, can I send you a necklace sometime?"
I'm constantly giving away free jewelry to strangers.
What is your favorite local place to eat at where you live?
Mmmmm, an amazing Mexican restaurant about 35 minutes away.
We actually just went there the other day and I grabbed pictures to blog it soon.
If you could travel anywhere in the world, which country would you choose and why?!
At this moment, I'd choose Hawaii. Even though that's not another country.
Just something peaceful and calm sounds wonderful.
What do you like to do at a light when you're waiting?
a)Pick your nose
b)Sing
c)Tap the song on the radio out with your fingers on the steering wheel
d)Put on lip balm or hand lotion
Put on makeup. I never do it at home, but always in the car.
Or I beat on the steering wheel. I'm a drummer.
what is your all time favorite movie?
ok, that's hard...top 3?
I like light fluffy movies. The kind that are just an escape from real life.
I don't like heavy ones. Nothing too sappy either. No "chick flicks."
That Thing You Do, Fools Rush In, and Grease are the first to pop in my head.
If you had to pick your last meal what would it be?
Oh goodness. I love food way too much.
It would be carbs. Lots and lots of salty carbs.
Mashed potatoes, homemade mac and cheese, garlic bread, bacon, and chocolate cake with double frosting for dessert. I'm a health nut.
do you have more than one dog? i've only ever seen the basset. just wondering?
We have two. A boston terrier and the basset hound.
Lilo and Stitch are their names.
They have a blog post coming soon too.
what was your wedding like? and where in the world would you really like to travel to?
My wedding was so nice. I was sort of the anti-Bridezilla.
I was living in Colorado and planning the wedding in Missouri.
Back then we didn't have internet so I had to do everything through the phone and snail mail.
I sort of just delegated duties to friends and family and showed up the week of the wedding hoping it was all pulled together. And it was.
It was simple and classic.
I gave money to a friend who was good at decorating and told her "You're in charge of decorating the reception area." It was beautiful.
I told my sister, an amazing singer, "Just pick a song." She did Elvis' Can't Help Falling In Love and it was perfect. So quirky and unusual, but so me.
I had two goals for the day - 1. I wanted everything to look timeless. I never wanted to be able to look back on the photos and go "Ohmygosh that was soooo 90's!" and 2. I just wanted to be hitched.
At the end of the day, all that mattered was that we were married.
I wasn't really concerned about any of the other fluff.
Oh, and I already picked Hawaii to travel to, so now I'll say England.
And because every post needs a photo, here's a quick shot from our yard this week.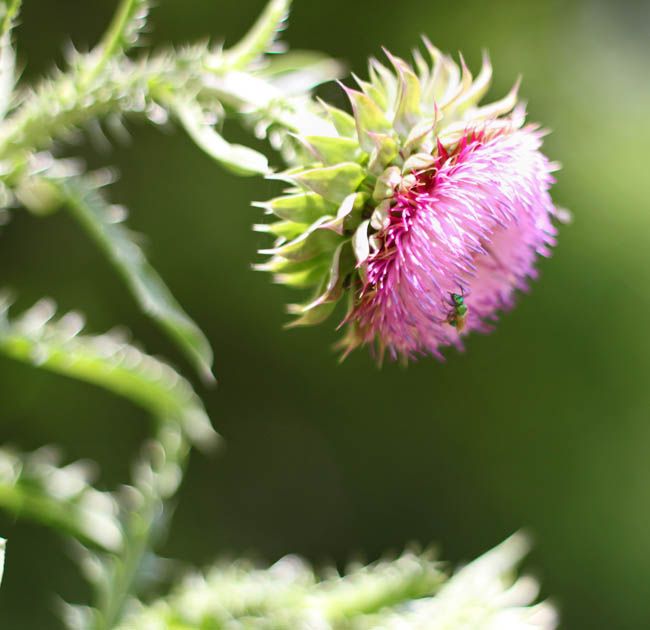 I have lots of blog posts in my head and hopefully I can get them posted next week.
Check in often because I may have 5 or 6 days in a row. Whew!
Have a great weekend!!
------
We love our sponsors!