Do you remember when I told you that Candace Cameron Bure (a.k.a. DJ Tanner) is my BFF? She didn't know it, but I did. (
click here
to see her wearing our jewelry.)
And then I went to meet her and missed her by 4 minutes? So I went shopping and ate cheesecake instead. You can read about
that here
.
Well over the weekend, it was girl time and I went to meet her.
She was speaking to about 3500 women in Missouri, where I'm from.
I knew she'd be good, but I didn't know she'd be
great
!
She killed it. Her voice is so soft and sweet, but carries the most powerful words you can imagine.
What an amazing time!!
My favorite (only) sister went with me. And she kept saying, "Can I just put her in my pocket and keep her? She's so adorable!!"
And Candace is. Completely. Stinking. Adorable.
I was also super excited to meet Mandy. Do you know of Mandy Young?
You should. When you're done with this,
click here
to read her website.
She's a ball of sunshine wrapped up in a 5'2" blonde package.
And amazingly inspiring.
And has only one leg. Go read about her to find out why.
If my sister would've put Candace in her pocket to take home, I'd have put Mandy in my pocket to take home.
Unfortunately we weren't allowed to take photos with Candace. (we could take them
of
her but not
with
her.)
But we did wait in line to meet her and get an autograph.
When it was finally our turn and she learned who I was, she jumped out of her chair, gave me a huge hug and said,
"My BFF!! I'm so happy to finally meet you!!!"
No, seriously. She did.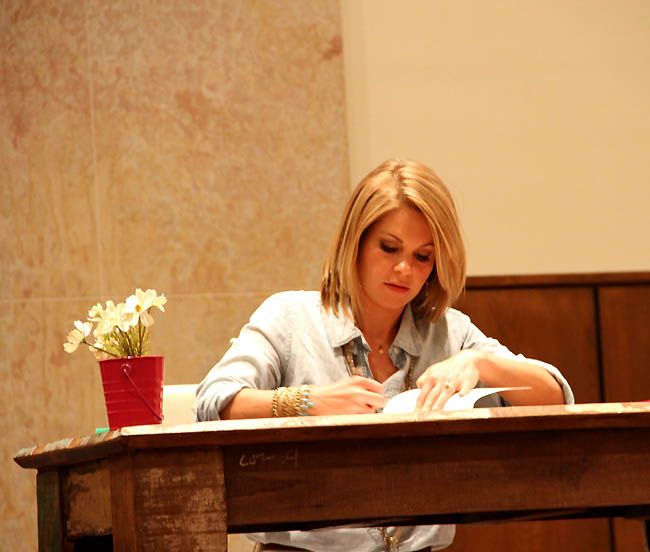 We chatted for a minute but I cut it short because:
1. I was crazy nervous.
2. There were still lots of people in line and I wanted to be respectful to them.
3. I didn't want her to figure out what a dork I really am.
4. I was crazy nervous.
If you get the chance to hear her speak, do it. It was such a great time.
And if you get to see her, think of me -
her BFF
.
(p.s. The winners of the recent giveaway are
Sherry
and
Christy
. Congrats ladies! Please email therustedchaininfo AT yahoo.com)