First, the other day blogger.com crashed. If you have a blog hosted on it, you probably know this.
We lost almost 300 comments on the giveaway post below this one.
So if you entered early, you might need to do it again.
---------
A few days ago we hit 100 degrees and had to turn on the air conditioner.
Tonight will be in the 30's and we'll need to turn on the heat.
Wacky!!!
---------
This is the first weekend for as long as I can remember that we've had no plans.
Nothing.
Not a single thing on the schedule. And it is soooooo nice.
I'm recovering from a cold, but that gives me an excuse to take a nap.
It's cold outside and that gives me an excuse to have extra coffee.
The kids are playing nicely (for now), planning parties, playing dress up, and that gives me an excuse to play on the computer.
Last night's dishes are still in the sink, and I have no excuse for that.
---------
This was the view from my office window a few nights ago.
The rainbow was so big I couldn't fit it all into an 18mm lens.
If you look in the bottom left, you can see a house. It's a good sized 2 story house.
Crazy.
Our God is so big.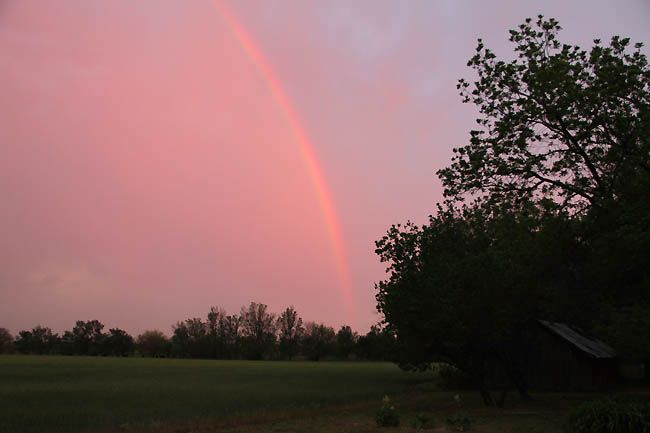 ****Random Saturday Question: When was the last time you had an ice cream cone?