In the years that I've been running ads on this blog, I've changed things up several different times.
I really want the advertisers to get the attention they deserve so I'm going to start doing a sponsor spotlight once a month. Please click around these shops and explore what's out there. You might find something you just have to have!

*****
Sew Gracious : handmade accessories & gifts with Southern style
Pam's lifetime of sewing experience & love of pretty things make each Sew Gracious special. Individually handmade Sew Gracious Accessories & Gifts are created for the woman who appreciates a stylish, well-made item that reflects her charm, style, personality & good taste.



*****
Heart of Virtue is a site filled with information, tips, and ideas for raising Godly girls. Their book "What Every Girl Should Know" is a personal favorite in our household and it would be great for youth groups or Sunday School classes.




*****
V and Co. features amazing tutorials for the DIY crafter. The shop is loaded with instructions for quilts, purses, scarfs, and more. Trendy, fresh, and stylish!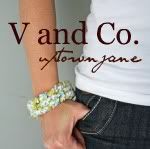 ******
Doodle Bugs Paper was started in January 2003. I started selling my personalized stationery by word of mouth, local home shows, and selling on ebay. The Doodle Bugs Paper website was opened in November 2004 and I went from designing stationery as a fun side hobby to a full time job. I offer personalized notecards, address labels, notepads, stickers, bag tags, self inking stamps and much more.

Get free shipping for the month of June by entering rustedchain during checkout in the coupon/voucher code box.




*****
Wendy Darling Ltd. is a sweet etsy shop with a variety of items. I'm a stay-at-home mom who is smitten with her little one. She likes to give her input on all of my creations and it's so fun to hear what she has to say. I have all kinds of ideas floating around in my head and I love to create things! What I make depends on my mood and which way the wind is blowing, so you never know what you might find here. Don't you just love surprises?



The wheat around us has now been cut but I snapped a few pictures a while back. I have more to share with you soon. It's headed to be made into bread and crackers now!
One more thing:
The winner of the recent giveaway is
Kelley
. Congratulations! Please email therustedchaininfo AT yahoo.com.
*****
Summer reading: Magazines or novels??