This is a weird weekend being the anniversary of the terror attack on America.
The reminders are everywhere on tv.
I've already been brought to tears several times.
And while I'm choosing not to forget, I'm also choosing hope.
I believe the future of our country's economy lies largely in the hands of the "little guys."
Click around, shop, get inspired... I bet you'll find something you love.

*****
Buster and boo was born from a love of antiques and writing. I am a once-or twice published writer, and learned to type on a manual typewriter. I love working with these old, wonderful typewriter keys. For me, these keys turned into jewelry is a way to honor these old machines, and preserve a bit of the past. With each set of keys that I find, I wonder about how this machine was used - for what purpose. Was it in an office? A garrett? A college? These keys are a bit of a glimpse into the past. Reclaiming the keys is glorifying the wonderfulness of typewriters, and turning them into a mini piece of heirloom jewelry that will last a lifetime.
Enter the code "rustedchain" and receive 15% off!



******
Hawthorne Hill says: Smack dab in the upper Midwest is my country house by a hill with hawthorne bushes growing all around called, Hawthorne Hill. This is a place where creations happen and the town and country meet to make eclectic, upbeat and affordable merchandise. Please browse our etsy site and sample some of the unique wares.



******
Tippy Stockton Jewelry : It all began when I inherited my Mom's jewelry box after she had passed away. It's funny, I never remembered her wearing any of these amazing jewels. I've always been a girly, girl so I just knew at that moment that I needed to go on a hunt for vintage and other sparkly things. My dream of having my own site came true this week when I officially launched TippyStockton.com. I feel blessed beyond belief and I know that my angel is never far away. Patricia lives in Edmonds, WA and spends a great deal of time in her little Studio that sits under a huge spruce tree.
Fall is in the air! Use TIPPY20 for 20% off at checkout. Good until the end of the month!



*****
Sew Gracious : decorative pillow covers . home decor . accessories
Pam's lifetime of sewing experience & love of pretty things make each Sew Gracious special. Brand new to the Sew Gracious line : Decorative Pillow Covers! SG Pillow Covers are a beautiful, affordable way to spruce up your space! Available in pairs or to mix & match. More home items are coming soon!



*****
Heart of Virtue is a site filled with information, tips, and ideas for raising Godly girls. Their book "What Every Girl Should Know" is a personal favorite in our household and it would be great for youth groups or Sunday School classes.




*****
Wendy Darling Ltd. is a sweet etsy shop with a variety of items. I'm a stay-at-home mom who is smitten with her little one. She likes to give her input on all of my creations and it's so fun to hear what she has to say. I have all kinds of ideas floating around in my head and I love to create things! What I make depends on my mood and which way the wind is blowing, so you never know what you might find here. Don't you just love surprises?




******
Minky and Me says: Sewing is a passion for me and I'm glad for the opportunity to share my creations with others. I specialize in blankets, tag alongs, custom clothing and so much more!



******
Pink Lemonade says: Hello. I am Paige. A 15 year old homeschooled teen. Follower of Jesus. Daughter. Sister. Blogger. And owner of Pink Lemonade. I love my family and friends more than anything. I love crafting , shopping, cooking, thrifting, and sewing!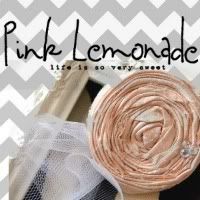 ==========
Have a Blessed weekend, y'all!