When we were at EPCOT last week (was that last week?! My days are running together!) we saw a sign that said
Sugar Ray
would be in concert that evening.
I thought, "Cool! I like Sugar Ray. Their music takes me back to the 90's... back when I watched Friends religiously, sported "The Rachel" hairdo, and was skinny even though I didn't know it..."
I also loved Mark McGrath on the recent Celebrity Apprentice. I was totally pulling for him to win. (I think that's the 5th time I've used the word "totally" today... I'm like totally a Kansas valley girl all of a sudden.)
So we went. We grabbed our seats about 30 minutes before it was to start.
And at the last second I looked at The Man and said, "Wait! What if Mark McGrath isn't the lead singer anymore? If it's Sugar Ray with a bunch of new members, I'm going to Test Track."
And then they came out. And it was really him.
He showed off his mad cowbell skills.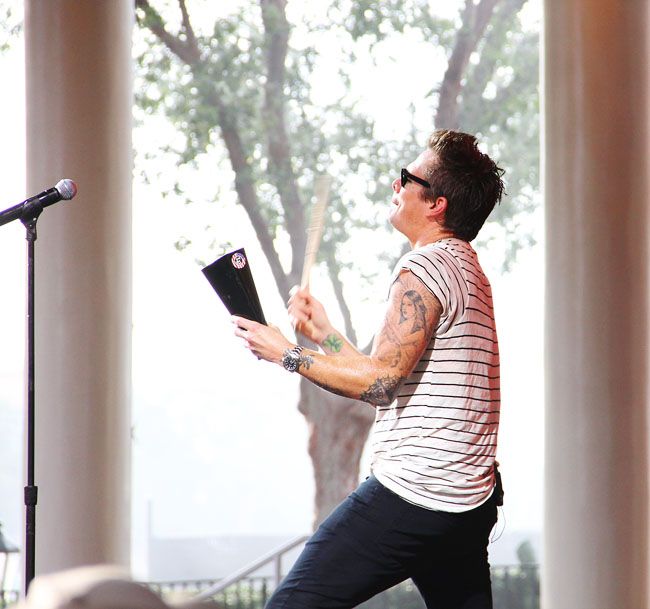 It was insanely humid. And then it started raining.
And Mark went out into the crowd in the rain. What a nice guy!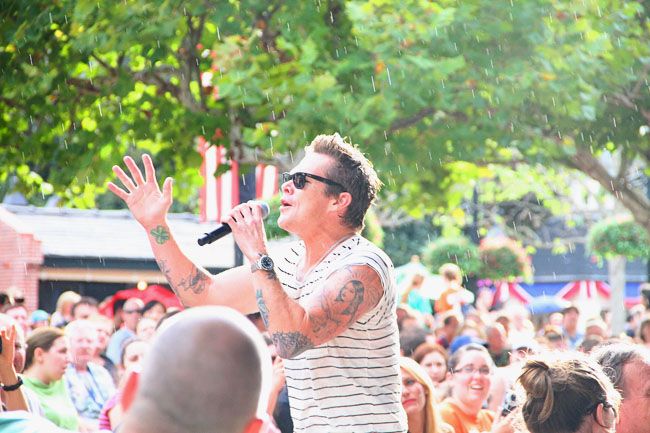 They were really good. Very energetic and kind, and seemed to be having a great time at Disney.
My kids loved it too. The big ones anyway. This is what The Baby thought of it...
It was very fun! Very peppy. Very family friendly, which we appreciated.
The following night was a band I'd never heard of. And then it was Hanson. mmmmBop.
I'm glad we were there on the right day.
Happy November!