Over on the right side of this here blog, we have some pretty fabulous sponsors.
Occasionally I like to shine the spotlight on them.
I do hope you'll click around, check out these businesses, and get inspired!

*****
Buster and boo was born from a love of antiques and writing. I am a once-or twice published writer, and learned to type on a manual typewriter. I love working with these old, wonderful typewriter keys. For me, these keys turned into jewelry is a way to honor these old machines, and preserve a bit of the past. With each set of keys that I find, I wonder about how this machine was used - for what purpose. Was it in an office? A garrett? A college? These keys are a bit of a glimpse into the past. Reclaiming the keys is glorifying the wonderfulness of typewriters, and turning them into a mini piece of heirloom jewelry that will last a lifetime.
Enter the code "rustedchain" and receive 15% off!



******
Style Me Fashions: Style ME Fashions is a on-line store developed for the church-going girl/woman, business executive or everyday woman who has a strong desire to be stylish, classy and modest all at the same time. Our desire at Style ME Fashions is to keep "Modesty Alive."


******
Tippy Stockton Jewelry : It all began when I inherited my Mom's jewelry box after she had passed away. It's funny, I never remembered her wearing any of these amazing jewels. I've always been a girly, girl so I just knew at that moment that I needed to go on a hunt for vintage and other sparkly things. My dream of having my own site came true this week when I officially launched TippyStockton.com. I feel blessed beyond belief and I know that my angel is never far away. Patricia lives in Edmonds, WA and spends a great deal of time in her little Studio that sits under a huge spruce tree. Because of those snowed in in the Pacific NorthWest, ICE STORM will get you 20% off your purchase. Exp. 1/31.




*****
Sew Gracious : decorative pillow covers . home decor . accessories
Pam's lifetime of sewing experience & love of pretty things make each Sew Gracious special. Brand new to the Sew Gracious line : Decorative Pillow Covers! SG Pillow Covers are a beautiful, affordable way to spruce up your space! Available in pairs or to mix & match. More home items are coming soon!



*****
Burlap and Blue: I love spray paint, ruffles, thrift stores, dropcloths and Target (though maybe not in that exact order). I'm a big fan of DIY, and feel like you don't have to spend a lot of money to get a lot of style. Come get inspired!



*****
Octavia Bloom: Octavia Bloom began in 2005. Shortly after graduating college, owner & designer Jenny received an order from Anthropologie for her handmade jewelry and hasn't looked back since. Her love is for all things colorful and unique, which is what she desires to create in each of her pieces of jewelry. Currently, Jenny's work reflects a blossom shape with layers upon layers of color and texture.




******
Minky and Me says: Sewing is a passion for me and I'm glad for the opportunity to share my creations with others. I specialize in blankets, tag alongs, custom clothing and so much more!



******
Pink Lemonade says: Hello. I am Paige. A 15 year old homeschooled teen. Follower of Jesus. Daughter. Sister. Blogger. And owner of Pink Lemonade. I love my family and friends more than anything. I love crafting , shopping, cooking, thrifting, and sewing!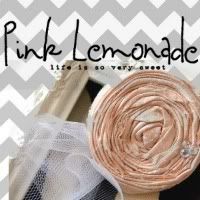 ******
Doodle Bugs Paper: Doodle Bugs Paper began in January 2003. I started selling my personalized stationery by word of mouth, local home shows, and selling on ebay. The Doodle Bugs Paper website was opened in November 2004 and I went from designing stationery as a fun side hobby to a full time job. I offer personalized notecards, address labels, notepads, stickers, bag tags, self inking stamps and much more.


******
The Good Wife's Guide encourages women to make faith and family their first priorities from a place of sacrificial love. It reminds women that they were created with a specific purpose in mind, which is that of being a help meet. In supporting our husbands and living in unity we reflect God's blueprint for marriage.



==========
If you'd like to see your business featured here, just shoot me an email!
Do you like to go out and shop, or stay home and shop?