Ree was going to be doing a book signing in Wichita yesterday, and for a while we've been planning to get together for dinner.
So we did.
It was Ree, Cowboy Josh, a friend named
Jenni
, and me.
And would you believe I didn't take a single picture at dinner??
What kind of blogger am I, anyway??
It was actually really nice. The restaurant was quiet and there was hardly anyone there.
We just sat and chatted and laughed and enjoyed the downtime!
When I got home, The Man said, "You don't even have proof?!"
On our table was falafel, pasta salad, 6 Cheese chicken pasta, New Orleans style fish, iced tea, Diet Pepsi, and Bud Light.
We really did have a nice meal together. Even if I don't have proof.
Then it was off to the theater for the book signing.
The location is an old church.
I snapped a quick picture on the way in.
Then I stopped and took a picture of the audience, pretty architecture, and empty stage.
We got tucked in our seats, high up in the balcony.
And then a lady came onstage and grabbed a mic and said, "Is there a Jenni and a Beki here?"
Oh no.
I'm shy. Jenni's shy-er. (yeah, I made up a word.)
We sheepishly raised our hands.
"Ree said you're her VIP guests for the night and would like you ladies down here, so we've put two chairs on stage. Come on down!"
Oh dang.
I shoved my camera at my assistants and told them they were in charge of it.
Jenni
and I took our places on stage, blushing and quivering.
My view from the stage...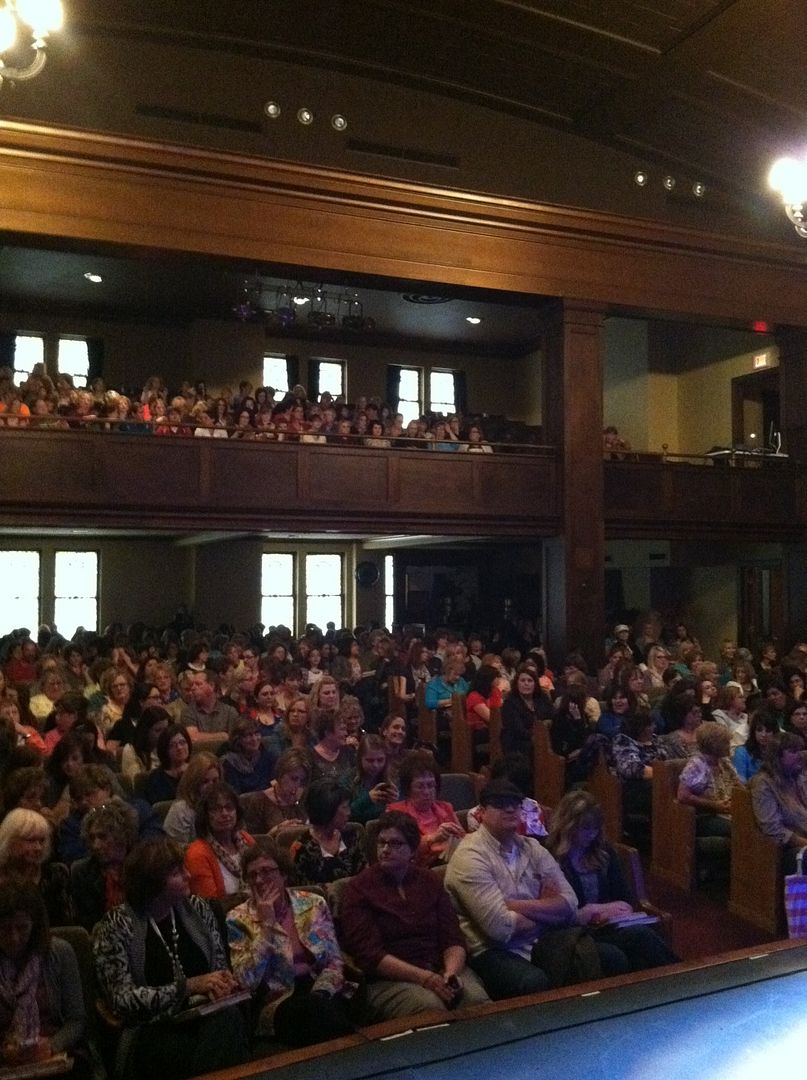 "Jenni, how did we get here??" ... "Beki, I don't know but I think people are looking at us." ... "Jenni, I'm sweating." ... "Beki, I'm blushing." ... "Jenni, I'm shaking." ... "Beki, me too." ...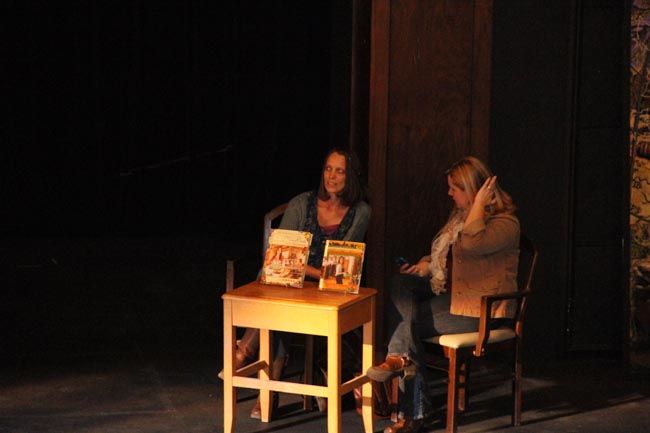 Cowboy Josh joined us. He was as scared as we were.
He started devising a plan for us to sneak away.
Jenni passed the word on to me.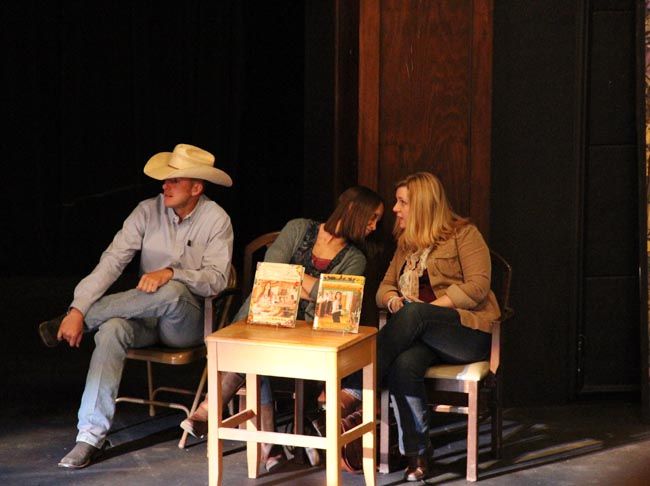 Let's just all sit here and try to look like we're comfortable.
You know how to tell that
I don't belong on a stage
??
This is me apparently scratching my butt, in front of a huge crowd of people.
I'm grateful to my lovely assistant for documenting this moment for me.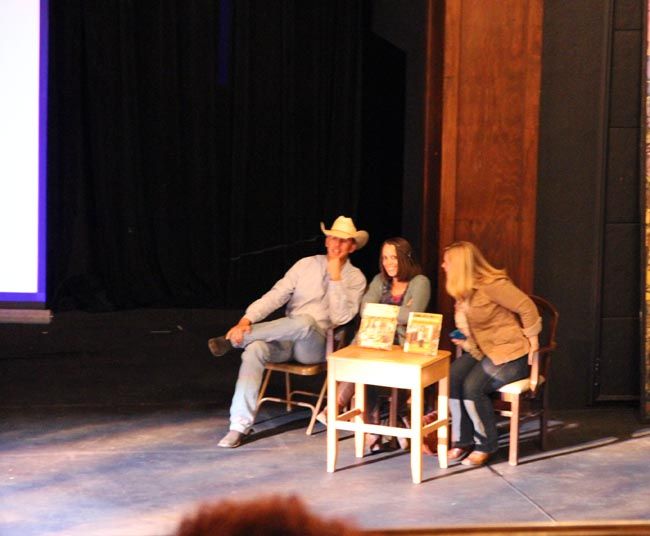 Our escape plan failed and next thing we knew Ree was on stage.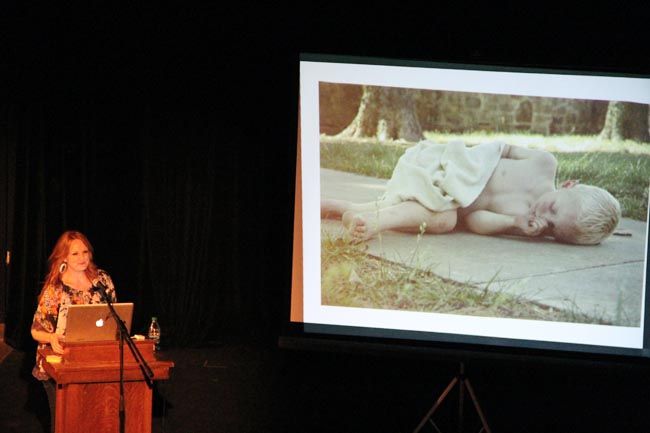 My view...
She sang a rousing version of Diana Ross' "My Endless Love" to Charlie.
She was hilarious and charming, even though she was nervous too.
Ree owned the audience.
So, here's where we get to the best part.
After the program, we all headed backstage and Ree said something like, "Thank you guys for joining me up there for moral support!"
Jenni and I looked at each other confused.
I said jokingly, "I don't think we had a choice!"
Then we were all confused...
Ree said, "I told the bookstore people that my friends Beki and Jenni were my VIP guests, and I'd like them to be right in front. I meant the front row!"
The bookstore people put us right in front... of the whole audience!!
Ha!!
We survived.
And despite me breaking out in the flop-sweats, it was a really wonderful afternoon!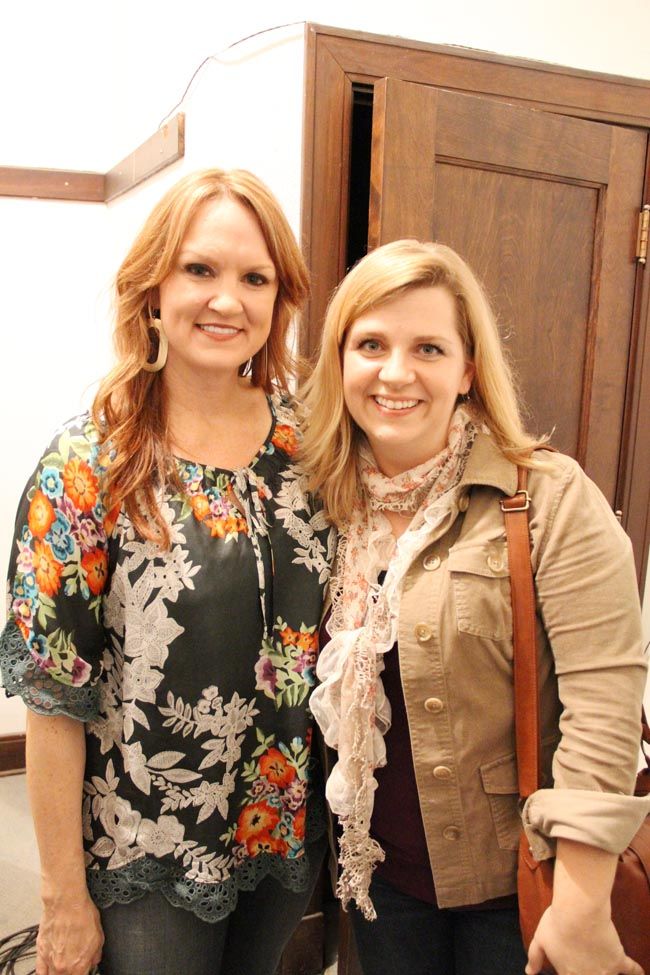 Thank you, sweet Ree!