Before the weekend, weather forecasters started warning us about some pretty intense weather.
They were predicting a severe tornado outbreak across Oklahoma and Kansas.
And it happened.
Saturday evening we were keeping an eye on the news and ready to head to the basement when necessary.
We're too far out of town to hear the tornado sirens, so we have to rely on the tv and radio.
And The Man is a huge weather nerd so that helps. He really should've been a meteorologist.
Just before sunset we went out and I snapped a picture of the clouds.
Not much was happening and it was just kind of pretty.
Then, less than an hour later, in the same spot it was this.
Tornado! On the ground.
The kids and I were safe indoors, but The Weather-Junkie Man wanted to go see if he could see it.
So he grabbed my camera and the video camera and got these.
(I've taught him enough about aperture and ISO that he knew how to brighten up the pictures enough to get these. Now I need to work with him on shutter speed.) ;-)
Tornadoes sometimes "fall apart" and then come back together and that's what was happening here.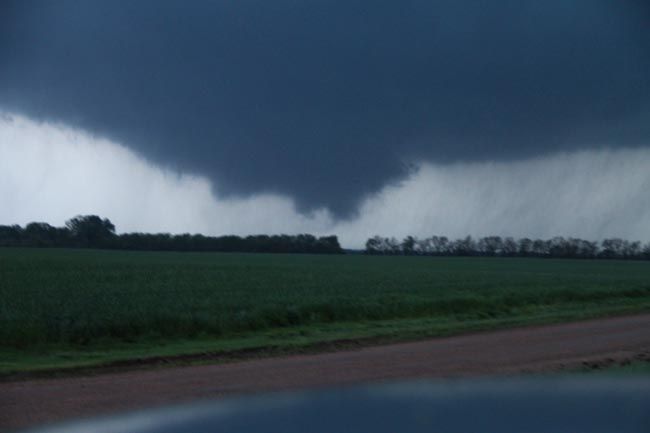 Then this armored "tornado proof" vehicle drove in front of him!
I've seen this on tv, but never in person.
It was with a crew of storm chasers.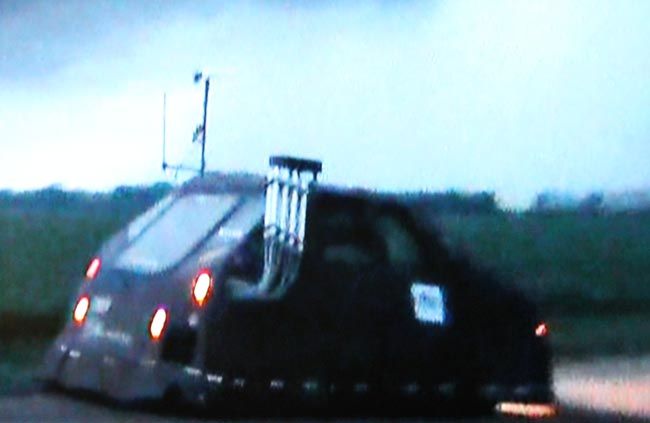 Crazy.
We lost power for the night, but that's it.
Sunday we went out to look at the damage nearby.
We originally thought the tornado was right by us.
It ended up being 4-5 miles away.
Wichita got hit pretty hard which was very scary.
There were 97 tornadoes reported in Kansas on Saturday.
The yearly average is 57.
All in all, there hasn't been a single death report from these storms in Kansas!
We were very blessed.
Springtime in the Midwest is crazy.