This summer we have a new routine in our family: Milkshake Mondays.
Sonic has 1/2 price milkshakes after 8:00pm.
So, the kids have a few requirements throughout the week that they have to fulfill.
Things like daily chores, reading, not fighting, & keeping up on math skills.
If they do those things, I will go out on Monday evening and get milkshakes for everyone!
So far, they've earned them every week.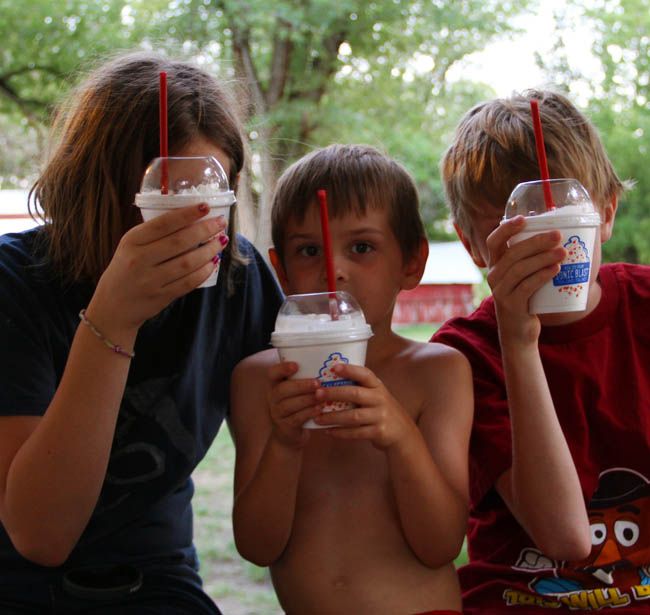 At some point recently Sonic changed their sizes and pricing on the milkshakes.
And a few weeks back when I ordered 3 smalls and a large, the voice from the red button judgingly snipped back at me, "Ma'am are you SURE you want a large?? That's like 32 ounces of ice cream!"
I had a moment of being shocked and offended, but answered, "Oink! Yes, I'm sure. My husband and I are splitting it." (like I needed to defend myself to the red button?!)
The Boy was with me and laughed like crazy. "Mom, I think you surprised her with your answer!"
Well the red button shouldn't mess with me when I'm hormonal and just want a hot fudge malt.
The order this week went a bit more smoothly. The red button nicely said, "Ma'am did you know we've changed our sizes recently? A large is now 32 ounces."
*whew* No attitude from the red button this time.
So Milkshake Mondays are a huge hit around our household.
But wait... (there's more!)
Today, Sonic is celebrating Summer by offering 1/2 price milkshakes all day long!
It's today only, Wednesday.
So if you can, get yourself to a Sonic!
But be aware that sometimes the red button has an attitude.