Back in 2001 or 2002, The Man and I went on a rare date, to a concert in Colorado Springs:
Steven Curtis Chapman and Nichole Nordeman
.
I was a huge fan of both.
Her name was spelled wrong on the tickets, but correctly on the marquis. (Sorry Nichole... I never told you this. It was the first thing I noticed as we pulled into the parking lot.)
On stage she moved me to tears.
For years her music and lyrics have inspired me.
Somehow
over the past year or so, we've become friends.
I'm not even entirely sure how it happened, but I just adore her.
A while back she asked if she could quote me in a book she was writing.
After consulting my legal team, I gave her the go-ahead.
(That part's a lie. I told her yes and then jumped around in my living room screaming like a tween at a Bieber concert. Whatever.)
Now I have no idea if "I" actually made it into the book or not. (I'm only on the second chapter.)
There's a good chance I landed on the cutting room floor. And that's fine!
Because it's not really about me anyway.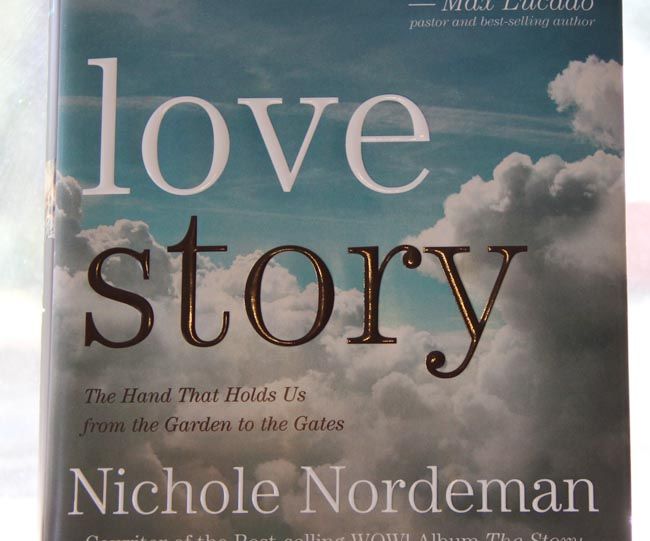 It's about you.
After I sheepishly asked, "Can I give one away on my blog?" Nichole was kind enough to send me several autographed copies of the book to give away to you!
Each has it's own unique message she's written in the front.
And I couldn't be more honored to do it.
Love Story
Luci Swindoll
calls Nichole a wordsmith, which I believe is the perfect description.
Natalie Grant
calls this book a treasure.
Max Lucado
says "Read it!" And really, who's to argue with him??
I am so thrilled to be able to share
Love Story
with 3 of you!!
It will make you clutch your heart, gasp out loud, snort with laughter, shed a few tears, and rock your spiritual world.
All in the best possible way, of course.
To enter: Simply leave a comment telling the last concert you attended.
For additional entries, tweet this, facebook it, or pin one of the
photos.
(please leave additional comments for each thing you do.)
In a week or so, I'll draw 3 random winners!
Love Story
is currently available for pre-order on
amazon
and in bookstores across the country on Aug. 28!
(*This is not a sponsored post. I'm not compensated in any way to share this info. I just think Nichole is one groovy chick, and this book is already changing my life and I want it to change yours too. Over and out.)