I love pork.
(like really really love it. Like, my feelings for pork would be considered shameful by some.)
I really love Kansas.
And I really love Fall.
So when I got the chance to work with the
Kansas Pork Association
, I was like dude! This is right up my alley!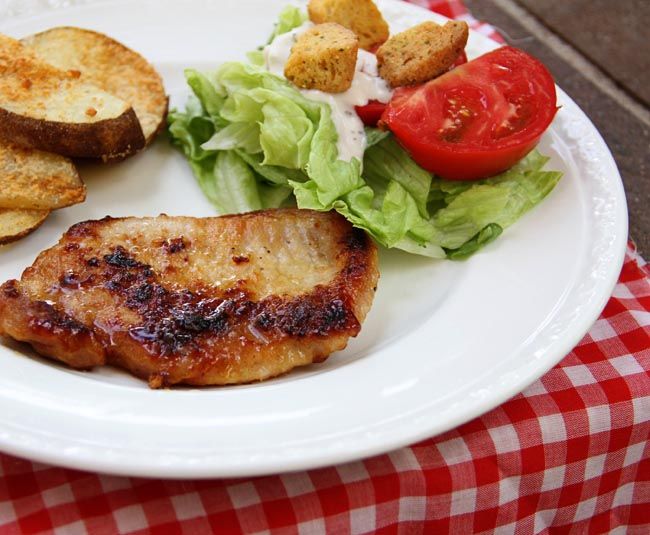 I got the chance to talk with a Kansas pork farm family,
The Springers
, and ask a few questions. (It's obviously a hard hitting interview and I'm on my way to being the next Barbara Walters.)
What is your favorite cut of pork and why?
Pork tenderloin is my favorite thing to cook. I usually cook it whole, either in the oven or on the grill. If cooked properly (cook until it reaches an internal temperature of 145º, then let it rest for 5-10 minutes) it will be juicy and cut like butter!
Bacon is also a favorite around this household. Our favorite recipe is "Bacon Candy".
Dredge slices of bacon through brown sugar (if you like spice add a tbs. of chili powder to the brown sugar). Lay bacon on a cooling rack over a foil-lined cookie sheet. Broil for 7 minutes on low or you can bake at 400º for 20 minutes 'til crisp. It's porktastic!
Do you or your kids ever get attached to the piglets?
We always have piglets, so in the kid's eyes they all look the same. So at this point in their lives they really don't know the difference. We have two boys. Mason is 6 ¾ (just ask, he will tell you) and Cooper is 4.
How big does a pig (or is it hog?) get before it's butchered?
270 – 280 lbs.
What do you wish people knew about Kansas or the Midwest?
This is a hard one! It's amazing what some think about Kansas and the Midwest in general. No trees, flat, boring, indoor plumbing? I once had a job interview that lasted over an hour and it was mostly questions about tornadoes, Dorothy & Toto and whether cowboys and Indians still roamed the land! I should have told him yes, but the cowboys now drive a Chevy or a Ford and the Indians are raking it in at the casinos! I wish more people understood where their food comes from and why ag education plays an important role in the future of this country. No Farms equals No Food. Also, many people have no idea of all the by-products that come from pork, beef and other animals. Farmers work very hard to ensure a safe food product. My hog farmer hubby is the hardest working person I know. Just tonight he had to go out on an alarm call to one of our hog buildings for a temperature related problem and then it was back home to finish up some farm paperwork for our swine consultant who is coming tomorrow. I'm just grateful that the alarm was at 10:00 and not 2:00 in the morning. Hog farming is for sure not a 9 to 5 job. The pigs act just like our boys… they're always looking for something to eat, they're always thirsty and all they want is a comfy and safe place to sleep every night!
-------------
I also got to make one of the Springer Family's favorite recipes, Honey Pecan Pork Cutlets.
Honey-Pecan Pork Cutlets
Prep Time: 5 minutes
Cook Time: 10 minutes
Ingredients:
4 pork cutlets, tenderized, 1/4-inch thick
4 tablespoons flour
1/2 teaspoon salt
1/4 teaspoon ground black pepper
1 tablespoon butter
1/4 cup honey
1/4 cup pecans, chopped
Cooking Directions:
Season flour with salt and pepper; dust surfaces of pork with seasoned flour. Melt butter in large heavy skillet over medium-high heat; brown cutlets on one side for 1-2 minutes, turn; stir together honey and pecans and add to skillet, stir gently. Cover and simmer for 6-8 minutes. Serve cutlets with sauce from skillet.
Serving Suggestions:
Straight from Dixie, these sautéed pork cutlets melt in the mouth when glazed with honey and butter and graced with pecans. These are great served with mashed or baked sweet potatoes and a tart cabbage slaw.
Nutrition
Calories: 340 calories
Protein: 25 grams
Fat: 16 grams
Sodium: 370 milligrams
Cholesterol: 80 milligrams
Saturated Fat: 5 grams
Carbohydrates: 25 grams
They were SO SO good! My family is not big on pecans, so we skipped those.
At the table the kids splashed a little soy sauce on their honey pork and it was amazing!
The point of all this was:
1. To encourage you to support your
local farmers
!
2. To tell you about the wonderful terrific amazingness of pork. (like you needed told...)
3. To tell you about a tailgating giveaway pack worth over $800! (4) tickets to the KSU vs KU football game, a Weber Q 300 grill, 4 fold-able lawn chairs, a Coleman cooler, etc. Whoa! You have to go to the Facebook page to enter. (
click here to find it
.)
Please check out some other amazing Kansas bloggers, who are sharing more Pork recipes!
Dine and Dish
Kansas City Mamas
Gimme Some Oven
The Finer Things in Life
Super Jenn
Finding The Balance
Disclosure: This is sponsored by the Kansas Pork Association. But opinions are my own. And I really love pork. Like, really...