Yesterday I was having a no-good, rotten, very bad day.
The Bad.
- It was a bad hair day.
- We're out of coffee creamer.
- I ran at least an hour behind schedule all day.
- I had an ingrown toenail.
- I needed to go to a specific bookstore in Wichita. It was closed down.
- I needed to go to the phone store in Wichita. I forgot the gift card and cell phone at home.
- Hormones. So multiply the (perceived) severity of each of these items, by about 25.
- I did go to Target, came out and found this. A truck had pulled nose to nose with my car, but didn't stop.
The one getting crunched is mine.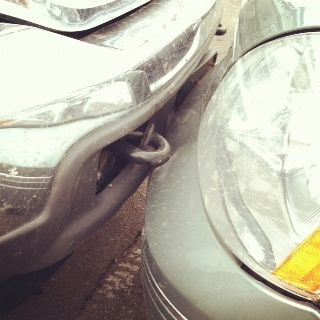 The Good.
- I have hair.
- A scoop of ice cream works.
- There was no tight time frame other than the one in my head. I wasn't late to anything.
- I had cute boots to cover the ingrown toenail.
- There are other bookstores. Or I can buy online.
- The Man and I will just take another trip to Wichita to go to the phone store.
- I walked into Target wearing cute boots. I walked out with an additional pair of cute boots. Called the police about the fender bender, the other drivers left without acknowledging anything but I have a picture of their license plate.
- The Baby slept all the way home. So it was just me, my hormones, and God... who managed to kick the grumpiness out of me.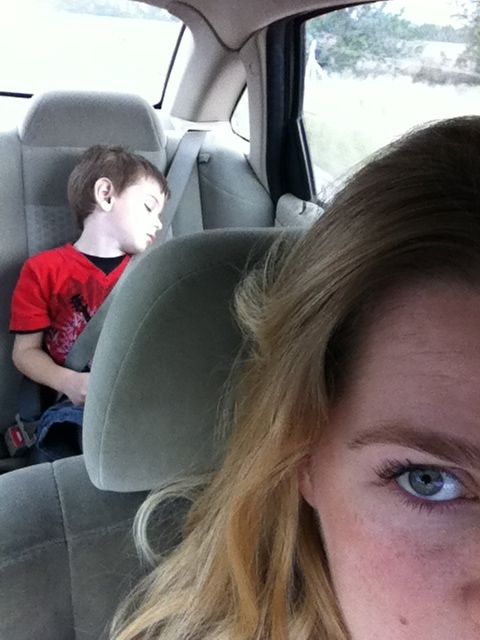 The Weird.
Today was See You At The Pole.
If you're not familiar, it's an annual gathering of students all across America, and the world.
They meet at the flag pole at their school for student led prayer.
I got teary just snapping this pic on my phone! It's a really beautiful thing.
So I had to get up early to take my big kids to that, since the bus wouldn't get them there on time.
I was to take them there, then take The Baby to the donut shop and spend a few minutes with him before dropping him off at his school.
But before I was even awake The Man called me and told me it was
"Donuts with Mom"
at The Baby's school.
The only issue here?
If I were just going to the donut shop, I'd have worn jeans, a t-shirt, and boots. Easy peasy.
But the school?? That's a different story in our town.
I've seen women at
"Donuts with Mom"
dripping with jewelry, wearing heels.
For real. These women mean business.
So I had to actually put on real clothes, brush my hair, even put a little makeup on.
And I had 15 minutes to do it. (and get 3 kids ready.)
I managed to do it. (Go me!)
We showed up at The Baby's school and it was dark. Both outside and in.
They had no power.
But there were moms, kids, and staff everywhere inside. We just couldn't see anyone's faces.
Weird.
We were directed to one room. There were no donuts. And no other moms.
I asked about it, and we were directed to the cafeteria.
And in the cafeteria, there were no donuts. And no other moms.
I asked again, and we were directed to a third room.
Donuts! And moms. Although I couldn't really see who anyone was.
I'm pretty sure they all had on heels and loads of jewelry though.
Probably.
It stormed all night, rained all morning, I've sneezed at least 372 times today, and my head is in a fog.
It's just been a weird few days.
Is this week over yet?