A few things:
1.) I'm not Asian. I'm about the whitest white girl in the Midwest.
2.) I don't follow a recipe. I just throw stuff in and adjust as I go. Forgive me.
3.) Everyone who's eaten this has raved about it and asked for seconds. Even my kids.
4.) It cures the common cold. (not entirely sure on that one.)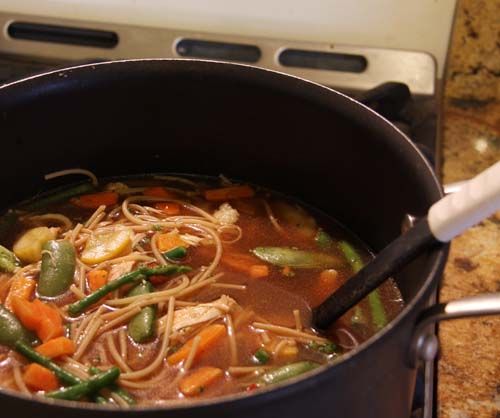 What you need:
"some" chicken (breast, thighs, rotisserie, whatever)
"some" broth
"some" spaghetti noodles (I use whole wheat for fiber and protein in this)
1 bag of frozen stir fry veggies
minced garlic
the following seasonings - soy sauce, hoisin sauce, teriyaki sauce, Thai chili sauce (found in basic grocery stores!)
If your chicken isn't already cooked, cook it. You can grill it, broil it, or even cook it in the broth. Shred it.
To the chicken and broth, add a heavy helping of garlic. You can do onion here too.
Break the spaghetti noodles into thirds, and drop them into the boiling broth.
If your liquid is low, add water or more broth.
When there is about 3 minutes left on the noodle cooking time, dump in a bag of frozen stir fry veggies.
When your noodles are cooked, and the veggies are crisp and bright, turn off the heat and add soy sauce (about 1/2 to 1 full cup), hoisin (about 1/4 to 1/2 cup - it's strong), Teriyaki (1/2 cup or so - it adds a nice sweetness), and Thai chili sauce (1/4 cup, or if you like it spicy, do more.)
Taste and adjust. More soy? More Thai chili?
We also add a drizzle of the Thai chili sauce on top of each bowl right before serving.
This soup will warm your innards!
I hope your family loves it as much as mine!
cell phone shot of my bowl.