The Baby was feeling better late in the day yesterday for his birthday.
All he wanted for dinner was a steak. Meanwhile, it was a school night and we live 45 minutes from the nearest city...
So we ended up at a nearby Applebee's so Birthday Boy could have his steak.
And he said,
"I don't think this dinner could get any better!"
He was thrilled!
......
Several years ago we started a new tradition of
Birthday Donuts
at school.
Donuts = different. Donuts = fun. Donuts = everyone loves them. Donuts = one less thing for me to worry about, because they're already made and I don't have to bake or decorate them.
So this morning I ran and grabbed The Baby's
Birthday Donuts
and took them to the school.
We
L.O.V.E.
our local donut shop! I love it so much I even
blogged about it one time, here.
This morning, just like every morning, there were a bunch of old men gathered around sipping coffee and talking about the weather.
I love it. So much.
Do you have a
Daylight Donuts
? Check your town. They are the BEST.
......
He's not really naughty. At all. Quite nice, in fact.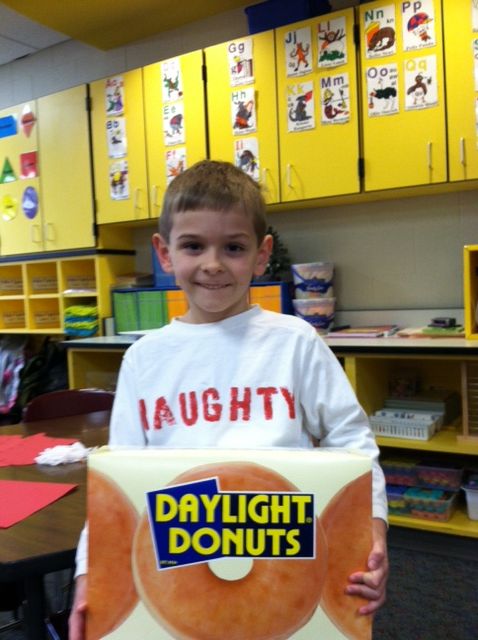 ......
I heart sparkles.
And December gives me an excuse to wear them every single day.
......
Do you remember the Peterson Brothers with the "Farmin' And I Grow It" video that went viral?
I
interviewed Greg Peterson here.
Well they're back with a new video! Great job boys! We're proud of you!!
Working Farmer Style (Gangnam Style Parody)
p.s. I had a Peanut Butter donut.
And it was cray cray good!