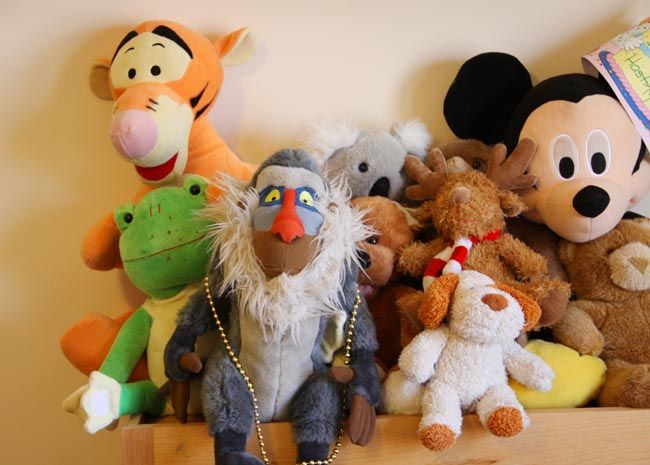 1. When babies are little, parents start teaching them their body parts. It's fun.
"Where's your nose?"
and the baby touches their nose.
"Where's your hair?"
and the baby touches their hair.
But when my babies were little, I threw in some fun ones like
"Where's your clavicle?"
and the baby would touch their collar bone!
"Where's your femur?"
and the baby touches their thigh.
This is super fun for play dates and to convince everyone your child is a genius!
2.
Keep crayons in your purse
. Any time we're at the doctor's office waiting to be seen, I pull them out and let the kids do art all over the paper bed covering. It keeps them occupied and is a fun surprise when the doctor or nurse finally walks in.
3. Magic erasers really are magic. I have no idea how they work, but keep them on hand to clean
EVERYTHING
that you think can't be cleaned.
4. There are a lot of fun upbeat pop songs right now that the kids like, but unfortunately they include the word "sexy". It's uncomfortable and wrong for a little kid to be singing
"I'm sexy and I know it".
So, we change it to "sassy"! Anytime that word comes up in a song, we instantly swap it out.
5. Always
keep wet wipes
in the glove box of your car. When babies are little, you never know when there will be a diaper explosion or spit up that needs cleaned off mom's shirt.
But even now that my kids are older, we still use them several times a week if I look in my rear view mirror and see a koolaid mustache, chocolate on someone's forehead, or if someone has an unruly cowlick that needs wet down.
6. I always served my kids whole grain bagels with strawberry cream cheese and called them "donuts".
"Mommy, can I have a donut?"
You betcha!! This worked GREAT. Until they had a real donut at someone else's house and said, "Mommy, their donuts are sooooo much better than your's." But it works for a while.
7. If you have a kid who's afraid of monsters, use your own perfume or body spray and call it
"Monster Spray".
Many nights I had to grab the Monster Spray and spritz the child's pillow, blanket, and sometimes even the window sill if there were concerns the monster might sneak in that way. Monsters HATE Monster Spray. It repels them. But the baby smells the comfort of mommy all night while they snuggle into their blankets.
Sure, some of these involve stretching the truth just a bit... but I still stand behind them as great mom tips!
Do you have any?