I pride myself on being brave, stepping outside of my
comfort zone
.
I firmly believe that taking risks has grown me as a person, and my business, in ways I could have never imagined.
But
speaking in public.... that's the one thing that still freaks me out
. So much.
I'm not sure it'll ever get easier. Hopefully so.
Recently a college contacted me inviting me to be their keynote speaker for a very special day.
They have a young entrepreneur program, encouraging students to start their own business.
The students put together a presentation detailing their business, and
the winner gets $5000
to start making their dream come true!
Yesterday was the day that the top 10 finalists got to present in front of an audience and a panel of judges.
Can I just tell you
THEY WERE AMAZING.
I was so proud of them. So inspired.
I was beaming. And then someone asked me if I had a student in college and I felt like crawling in a hole.
(When I came home last night, telling The Man about my day I told him how appalled I was to be asked this. He said, "Beki, you're 35. If you had a child at 17, which is not that uncommon, you could have an 18 year old college student right now." Oh.mah.gawsh.
I COULD HAVE A COLLEGE STUDENT!!!
Holy reality check.)
So, after the students presented, we were all treated to a nice lunch.
And then it was my turn to speak.
And even though I didn't have $5000 on the line, I'm pretty sure I was more terrified than any of those brave students.
But I did it. With a shaky voice. With sweaty palms. With a dorky giggle. With sweaty armpits. Talking too fast. I did it.
Here was part of the crowd. The room was too wide and I couldn't fit them all in, unfortunately.
When it was done and I made it back to my car, I had to snap a photo of myself to document the day.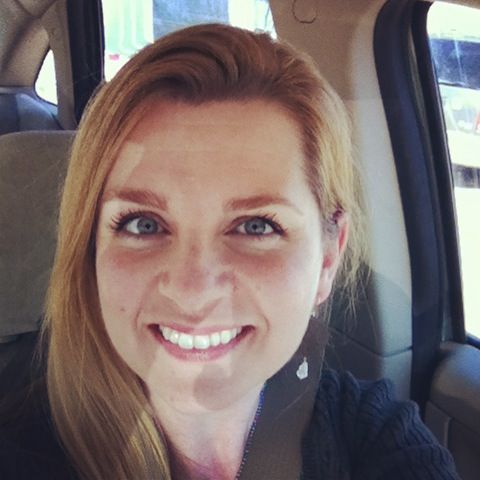 I'm glad I did it. Even though it was terrifying.
I learned a lot. Got inspired by young people.
And got a pretty great sugar cookie out of the deal.
Thank you
McPherson College
!