No seriously, the coolest. The coldest.
We made an impulse decision the other day to head over to Missouri for a quick Spring Break getaway.
Just me and the kids.
We knew it would be cool, in the 50's. But that's okay.
We're tough. Country people.
So we hit the road, like a band of gypsies.
What we didn't know was that it would turn freezing cold.
And snow 4 inches or so.
We had plans to go to Silver Dollar City and not even the bitter could was going to stop us.
We didn't pack coats, or any cold weather wear for that matter, so we had to borrow ski hats, gloves, and sweatshirts.
But we did it.
We know we're right at Silver Dollar City when we see the "Speed Limit 16" sign.
Can I just tell you how much I love having older kids?!
Of course I loved them when they were babies.
But this trip... no strollers. No diaper bags. No leaking breasts. No laying on the ground throwing tantrums.
No juice boxes or animal crackers. Not even a purse or backpack was needed!
Free hands, people! I didn't even take my camera.
Just my cell phone, tickets to get in, and a credit card.
So much freedom!!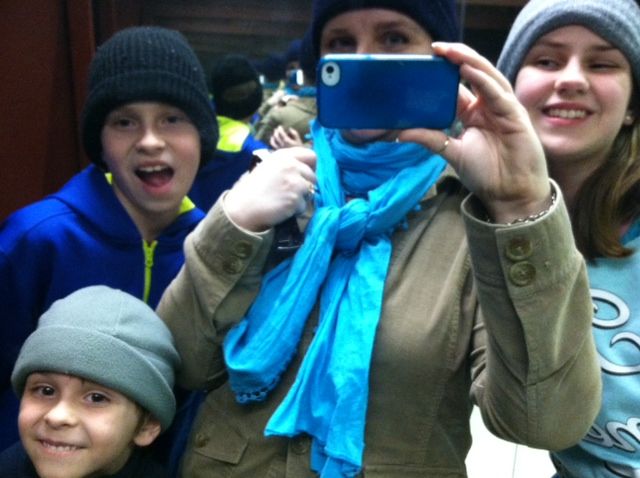 Because it was just so terribly cold, we left earlier than we normally would and headed to Lambert's for a yummy dinner.
It's one of our favorite stops.
We rested and relaxed and watched the snow fall.
You know, on Spring Break.
We just drove home today and now Kansas is expecting 7 inches of snow tomorrow.
We really are having the coolest Spring Break ever.
Do we know how to party or what??