Have you ever had a moment where God spoke to you so clearly it was like He was in the room with you?
I have. It's overwhelming. Tear inducing. You
know
what you have been told and you
know
there's no way to unhear that. It's only happened a few times in my life and it's heart stopping.
Other times, however, it's not as obvious.
Sometimes it seems like God is completely silent, even though we
desperately beg
for answers.
And still at other times, you know He's speaking, but it's a mumble. A jumble. You don't know exactly what's being said or what you're supposed to do about it.
It's the
Charlie Brown teacher
.
That's where I currently am. I hear messages coming at me loud and clear.
Verses hit me squarely between the eyes.
Sermons are clearly written just for me.
Songs are played on the radio with lyrics that are obviously intended for me at this very moment. (my narcissism is kicking in...)
But... what does it all mean???
I was asked to be on the launch team for
Jen Hatmaker's
book
Interrupted.
And yes, it is wrecking me. (in real life my fingers aren't blue...) It's no coincidence I received this book when I did.
How long have I been squeaky clean and comfortable?
Sure, I will announce to anyone and everyone that I love Jesus but am I living it?
Have I reflected God enough with my life?
When was the last time I
loved until it hurts
?
This book is not fluff. Don't get me wrong, I like happy clappy fluffy fun books.
But this one is meaty. Thick. Deep. It's a lot to chew on. But it is oh so good.
Here's a little secret: Jen Hatmaker is not all that special. (*gasp*!) She's actually pretty normal, just like you and I. But she's willing to dig deep, ask God tough questions, and hear even tougher answers.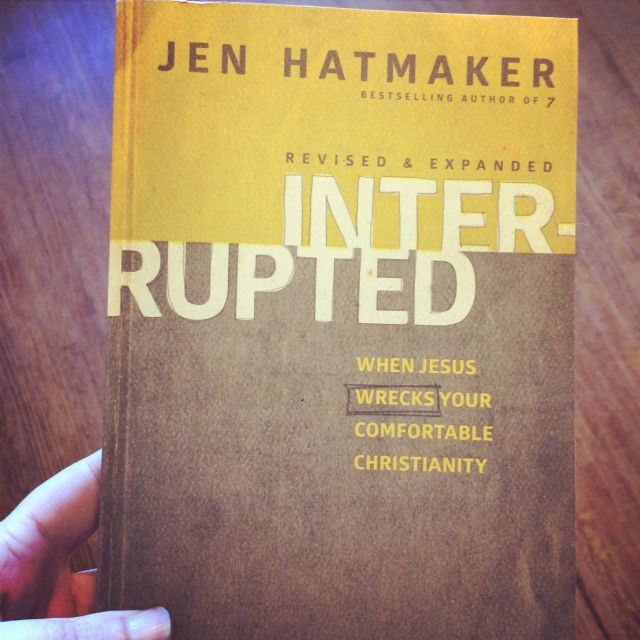 I'm scrambling to put all pieces of a puzzle together with a sense of urgency. I'm not even sure I have all the pieces yet, but I'm sure as heck willing to try to start creating something. I'm ready to start slapping them together hoping a picture emerges.
I'll admit to being frustrated.
And it's becoming apparent that it's just not my time. It's God's timing that matters.
I want all the answers and I want them now. I want to understand these messages, weave them into a beautiful blanket, and begin using it, nice and cozy-like.
But it's not time yet. If I were meant to understand, it would be clear by now.
It's not my time. It's God's time.
Imagine that...