This is one of the questions I'm asked most often lately.
"You went to Nicaragua with a group of people you'd never met?! How did that happen?"
So here's how.
A lady named Ruth found me through this here simple ol' blog. Last year she emailed me.
"Hi Beki. You don't know me, but I hope you take time to read this. We returned home from Nicaragua last Friday and my mind is whirling and twirling. This is our third year to go to Nicaragua to work with the kids in the dumpground...and my heart's desire is to help these kids break the cycle of living in the dump. To give them a hope and a future. And remind them that their past does NOT define them. Yesterday driving home from work, this thought went thru my head. You may think I'm crazy, but I think God told me to contact you. Maybe it's not God, but I've learned that most of the time it is...
Would you consider partnering with this school? I'd love to visit with you if you feel this is a door you might choose to crack open. I'd also like for you to go to Nicaragua for a short stay to see for yourself exactly what I'm talking about if you feel this is God leading you. I know we don't personally know each other, so this is awkward. My palms are sweaty even writing those words on the screen.
I'd ask that you pray about this. I'm scared to even hit send on this email. But I've also learned to trust God with the "crazy ideas". He's bigger than we can imagine!"
So. I read it and was stunned. Some lady I've never met wants me to hop a plane and go to a third world country with her... suuuuure. No biggie.
I read it to The Man and his response was a resounding
NO. No way. That's nuts
.
She seems like a sweet enough lady, but no. Ain't happenin'.
Two weeks later I replied to her.
TWO WEEKS, y'all!!
It wasn't intentional to keep her hanging on the line. I was just busy and trying to process it.
And when I did reply (finally!) I simply said,
"Hi Ruth!
I just wanted to let you know that this email DID end up in the right place.
We're talking. Thinking. Praying. Discussing.
But I didn't want you to think it was being ignored.
Thank you so much."
Well if that doesn't just warm the cockles of your heart... Ugh.
But... God's a funny one. And He just kept pestering me. And pestering me.
Finally earlier this year I reached out to Ruth and asked more details. How much would it cost? What are the dates? What would it entail?
The Man was growing weary of me talking about it to him... I was breaking him. And he caved.
About 6 weeks before the actual trip, I agreed to go.
I met up with our team in the Houston airport and had never spoken with any of them before that moment.
I was terrified, but knew I was exactly where I was supposed to be.
I was on the edge of something big.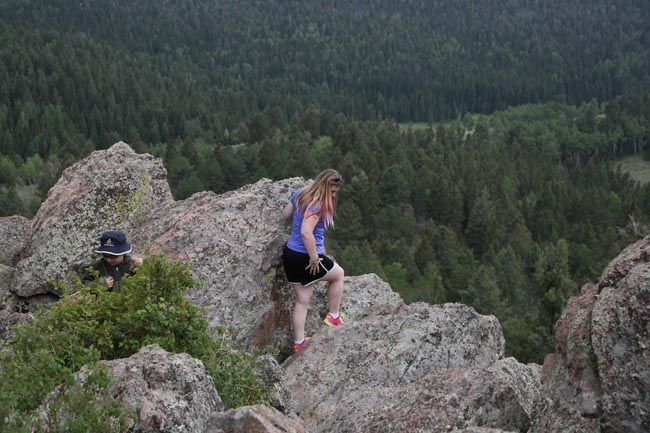 I still don't know why God spoke so clearly to Ruth to reach out to me, of all people.
I have no idea why I now have a lifetime connection with Nicaragua. But I'm so grateful for all of it!
And I can't wait to see how more of the story unfolds.
(photos from a recent vacation to Colorado.)